Pond Service and Sales; pond photos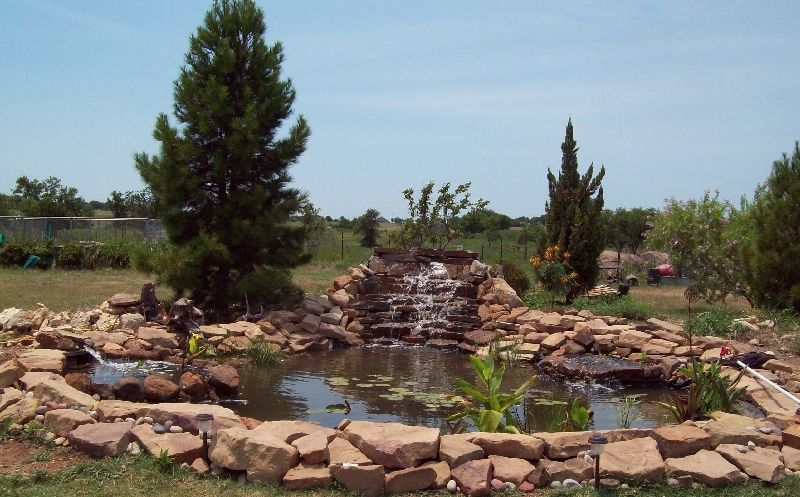 Pond services, Pond repairs - call early for spring or fall service. Pond installation and major repairs, summer, fall and winter. Emergency pond repairs year around.

We are insured.

Articles / Aquatic Information Pages List

Pond Sealants. Clearly beautiful stone and mortar that no longer leach and grow algae, what a concept. Check it out. Orders local only, call 817 293 1782

New page: The Official Everything Fishy DIY Pond Page It is still under construction.

Looking for:
Aquatics Articles - Ponds too
Home - Everything Fishy Pond Services - Local
Top of Page


Books: (Click title to preview.) Keeping Murphy Out Of Your Aquarium is presently out of print due to author's dissatisfaction with dated material. When the fish disease and fish medicine sections are up to date, a new printer will have to be found, since book will exceed saddle-stitch binding. Good info still exists on the preview page, but diseases have changed/worsened and medicines available have changed. Beginner to Intermediate fishkeeping and maintenance instructions, tips and techniques. Advanced books come out as soon as possible. Some of the preliminary information for the new edition is on the FishNotes link. A lot of excerpts from the book are scattered between the Murphy Page and Fishnotes. You're welcome to look around and see what you can find.

Pond services: Design, set-up, maintenance (water changes, filtration service), consulting, in most of the Dallas-Fort Worth area, and we do cleanups and minor rebuilds in Denton, Granbury. We serve Arlington, Bedford, Benbrook, Cedar Hill, Colleyville, Euless, Grapevine, Hurst, Keller, North Richland Hills, Southlake and Westlake. Pond services include cleaning, diagnostics, re-design, and rebuild, as well as fish disease diagnosis and sales of pumps, parts and fish medicine.

Pond service emergencies: (1.)Our ONE phone number: 817-293-1782. Do leave a message if you get the voicemail. An email from the link on this page will go straight to my cellphone as well. It's rare for the cell to be off, but it is often placed safely away from the water if we are on-site at a pond.

This page is still growing. All material on this and the following pages is Copyright 1999 - 2018 by Alice Burkhart. Keeping Murphy Out Of Your Aquarium is Copyright 1997, 1998 by Alice Burkhart, All Rights Reserved. Cover Photos by Andrew M Burns.