A beautiful, healthy pond can make your backyard a special place for entertaining and relaxing.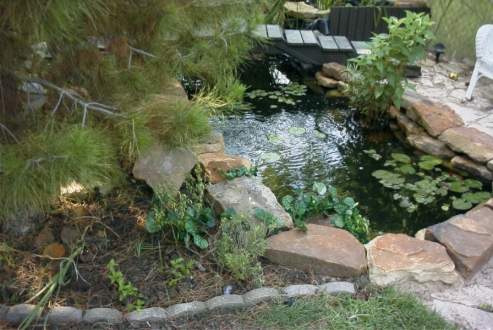 We do pond design and installation. We also specialize in keeping your pond healthy, and your fish healthy and visible. If you have algae problems and have limestone or concrete, for a simple fixes without a UV light, call us for a consult.
If you are planning a pond, whether you plan to build it yourself, have your landscaper, brother-in-law or someone else build it, visit the pond design page. Have us design the pond and find you the right components, or just design and build it for you. More pond photos
Have your pond or filter system designed (or re-engineered) by Everything Fishy and say goodbye to green water. We'll be happy to design a pond or water feature to suit your budget. Then we can either work with your landscaper, directing installation, assist you in doing the job, or install it for you. Your water feature should suit your budget, your lifestyle, and your time. Filtration systems should provide both mechanical and biological filtration, and superb clarity, with easy owner maintenance. Regular easy maintenance greatly reduces algae growth and the need for total pond cleanups. This saves you money in the long run.
Plant information: Water Hyacinths are illegal in Texas and most southern states. Texas fines people $100.00 a plant. They are being sold on the Internet and shipped from California into Texas. Texas fines the pond owners, not the shippers. We get calls to buy these every year, we don't have them.
We deliver and install beautiful perennial bog plants and hardy water lilies. We deliver some large goldfish, thick bodied, brilliant red/orange color. Fish are subject to availability. Recommended stocking load for goldfish: 1 adult fish per 100 gallons. Recommended stocking load for koi: 1 mature fish per 500 gallons. We realize most pond owners may choose more fish.
Koi rapidly outgrow your pond's capacity because they never STOP growing. Koi are best suited to ponds over 2500 gallons.
We answer emergency calls as quickly as possible. Often we can tell you, by phone, what to do to temporarily rescue your fish until we can get there. Everything Fishy's ONLY telephone number is 817-293-1782. Our hours are essentially 9:00 a.m. to sundown. If you get the voicemail, leave a message or text. Please leave a clear message with call back number, or text. If I am in a pond, the phone is on shore.
---
We start spring cleanups in January and February for the largest ponds we service, with the largest fish. We stop servicing ponds with fish when day time temperatures are over 90 degrees and resume in the fall. We clean ponds right thru the holidays in the winter, on decent weather days. We apply sealant to concrete ponds or mortared stone in dry conditions when it is safe for the fish to be out of the pond. That means not when it's hot if you have fish.
Summer: In the summer we clean filters and skimmers, and tidy up, but do not do major work that will have the fish out of the pond or result in loss of biological filter.
If you just bought a house with a pond and need to know what it needs, give us a call at 817-293-1782.
Fall maintenance includes basic cleaning, complete water change with pH match if needed, filtration and pump check-up,without equipment replacement or repair. Smaller ponds may cost less, or more, depending on the conditions, design complexity and difficulty of access. Larger ponds may cost more, or less, dependent upon the same factors. Filter pad replacement is available. A simple cleaning is fine in the fall.
Winterizing your pond involves at least a partial water change, leaf and debris removal from the bottom (since that is where your fish will spend the winter), and a checkup on your filtration equipment. We no longer shut the pump down in winter. Your fish require aeration and filtration year around. In the great Freeze of February 2021, ponds with running equipment and adequate size for stocking load did not lose fish. Running water in pipes that is moving fast enough won't freeze unless the power goes out.
Pond heater? Probably not. If we have ice on north Texas ponds, the power is out. A battery powered air pump might be do a better job of keeping an opening in pond ice. Pour hot water on to keep a hole in the ice and wait til the pump can come up.
Freezes. We do get them. The width of your pond is as important as the depth during a freeze. To make a hole in the ice if we have a freeze, pour hot water on the ice until an opening is worn thru. This will allow gas exchange. After power comes back on, be sure the pump starts and check exposed pipes for leaks. Freeze-mageddon broke some pvc pipes. Unplug pump, hook up an air pump, and call if you have a broken pipe. Do NOT feed fish when water temperature is below 55 degrees.
Spring maintenance includes basic cleaning, complete water change, leaf and debris removal, pressure washing, flushing of gravel, minor stream and or liner repairs, filtration and pump check-up, without equipment replacement or repair on pump. Price generally includes replacement filter pads and lava rock bags as needed. Other filtration parts may be extra. Size, condition, design complexity, and difficulty of access affect price.
Doing maintenance twice a year keeps your pond and fish healthy and attractive. Nets are available to put over ponds, we can order for delivery or suggest places that carry them.
Maintenance service area: We will quote a rate for your location. Service call charge of $85.00 limited to an area within 30 miles of our location in Fort Worth, Texas for emergency calls, pump replacements, etc. We no longer service Collin or Denton county past Trophy Club. Email, Text or call 817-293-1782. Emergencies: If you get all voice mails, leave messages.
Sunday Service call (emergency only): $135.00 plus mileage if applicable.

No trip charge for regular spring and fall maintenance, within 30 mile zone, which covers most of the Fort Worth area. The trip charge may be higher for ponds outside this range.
(Pond conditions, size, design complexity and difficulty of access affect actual price. Equipment repair and replacement are additional charges. Work may be done on a 'bid' basis, or charged at an hourly rate, plus a trip charge of $85.00 in Tarrant County. We generally bid large jobs, and charge the hourly rate on 'quick fixes'.) Fall maintenance and Spring maintenance are bid out, based on pond size, conditions and access.
---

Building a pond? Contractor or DIY, you decide. Pond design tips to save you time, money and grief. Whatever you decide, good filtration is critical to a healthy pond. Aeration helps to control temperature in the summer and enhance conditions for your fish, in addition to allowing many creative options in the way your pond appears, and sounds. The pleasant sound of trickling water, or the roar of a larger waterfall can be arranged.
A pond air pump is a good investment for any pond owner with fish, so if the main pump fails, the fish don't die. Just buy, put in a closet and wait for an emergency. They come in handy.
Aquatic plants enhance the ecosystem by using up nitrates. They also soften and naturalize the appearance of the pond. Water lilies bloom in the morning during the summer months, and provide shade for the fish during the heat of the day.
---
Aquatics information, photographs, articles Copyright © 1999 - 2021 by Alice Burkhart, All Rights Reserved. Page revised 8/12/2021.