Everything Fishy's Pond Gallery
Telephone: 817-293-1782. Email us
Pond service starts in January for larger ponds or major work. The more work you need done, the more advance notice we will need. This allows us to give 100 per cent of our attention to your pond while we are there, without being rushed (too much anyway).
I am going to put a year and city on each one of these, if you have a question, call or text. There are so many ponds and details cause so much text.
Dallas 2007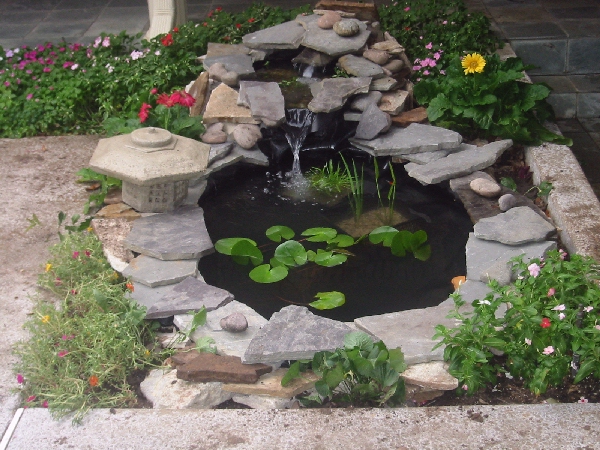 Burleson summer 2023 new construction built to match customer plans: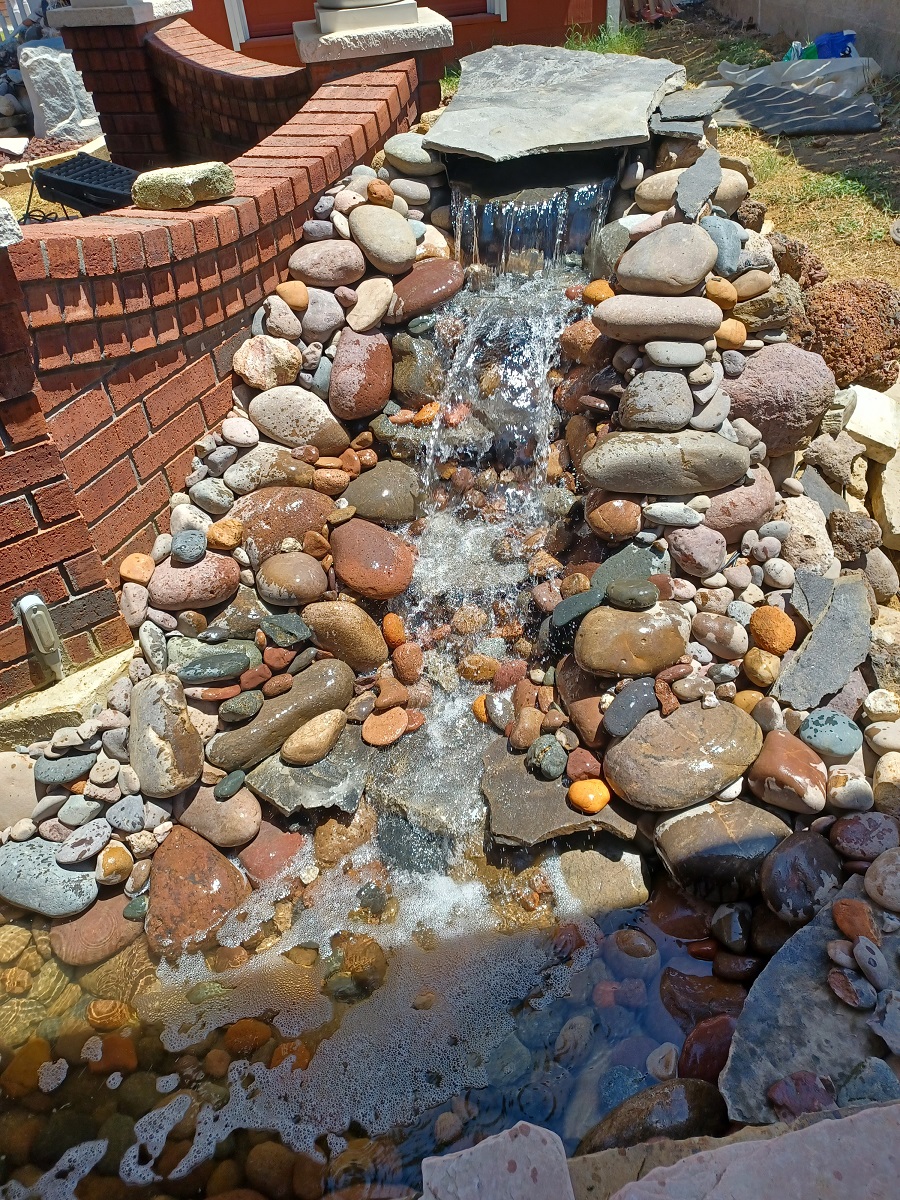 Fort Worth 2022 Liner change now that plants have grown and fish are in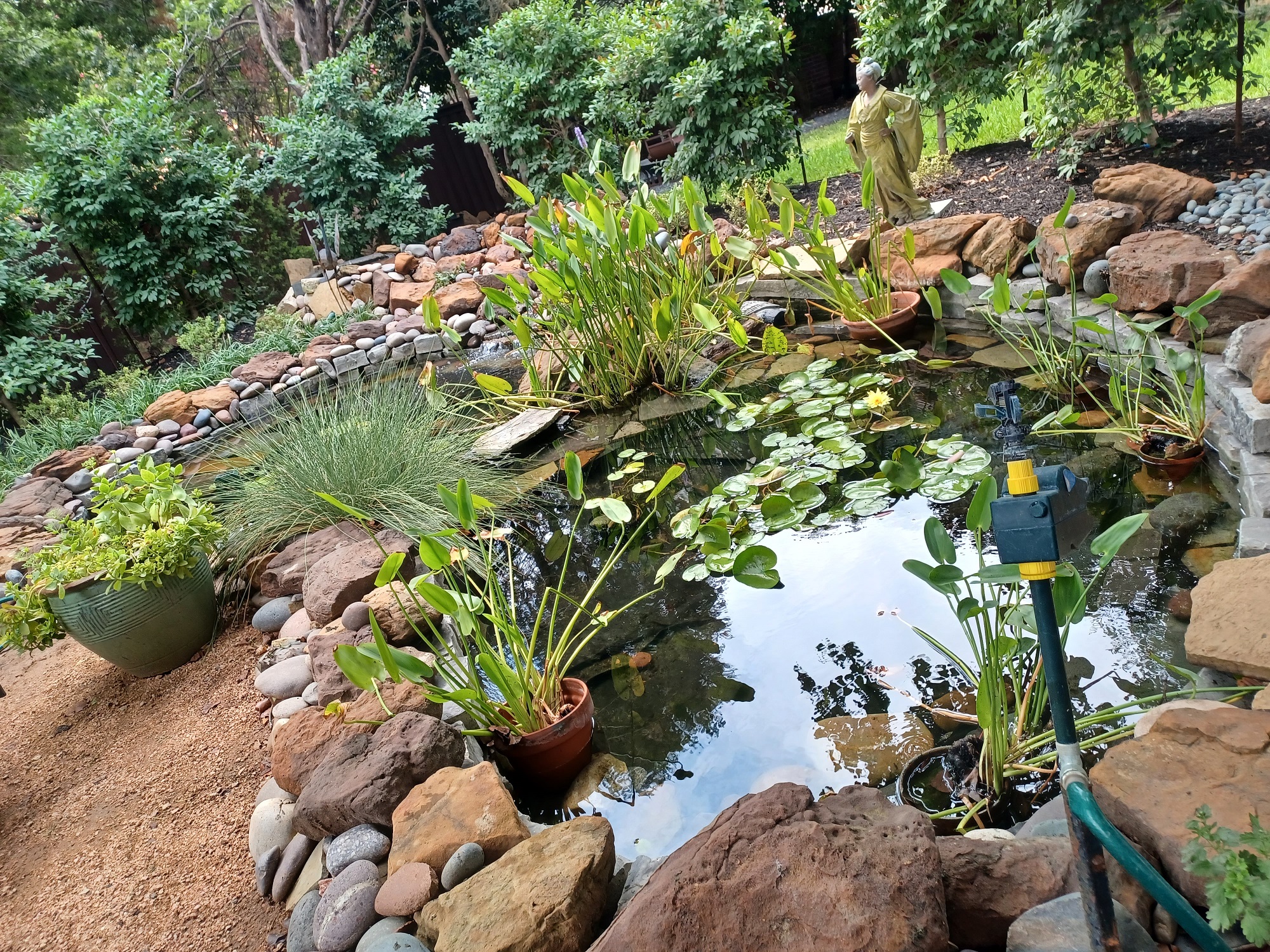 Fort Worth 2022 Liner change, replace limestone with inert stone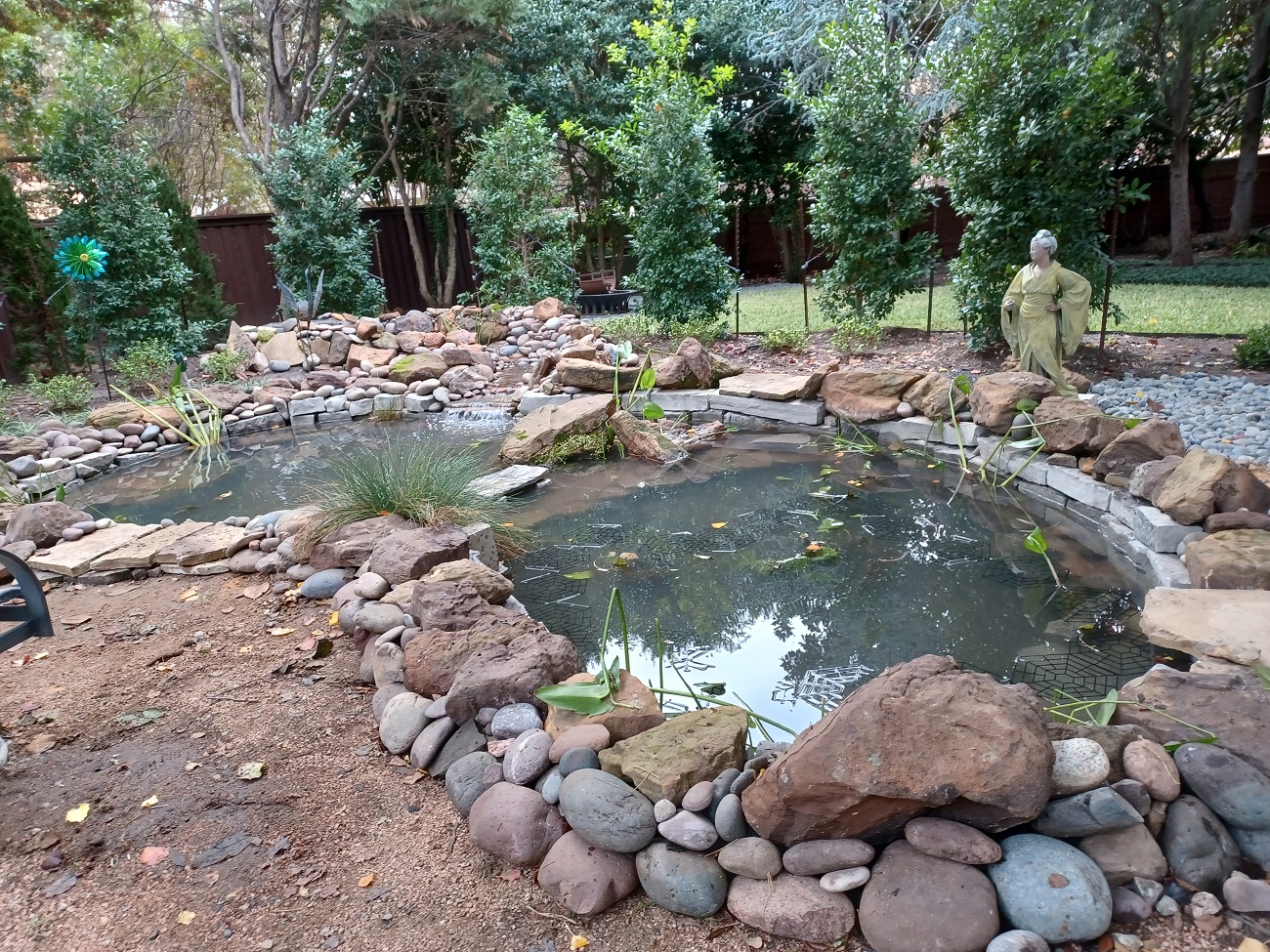 Cleburne 2022 - Clean, Replace both seals, fix back pipe.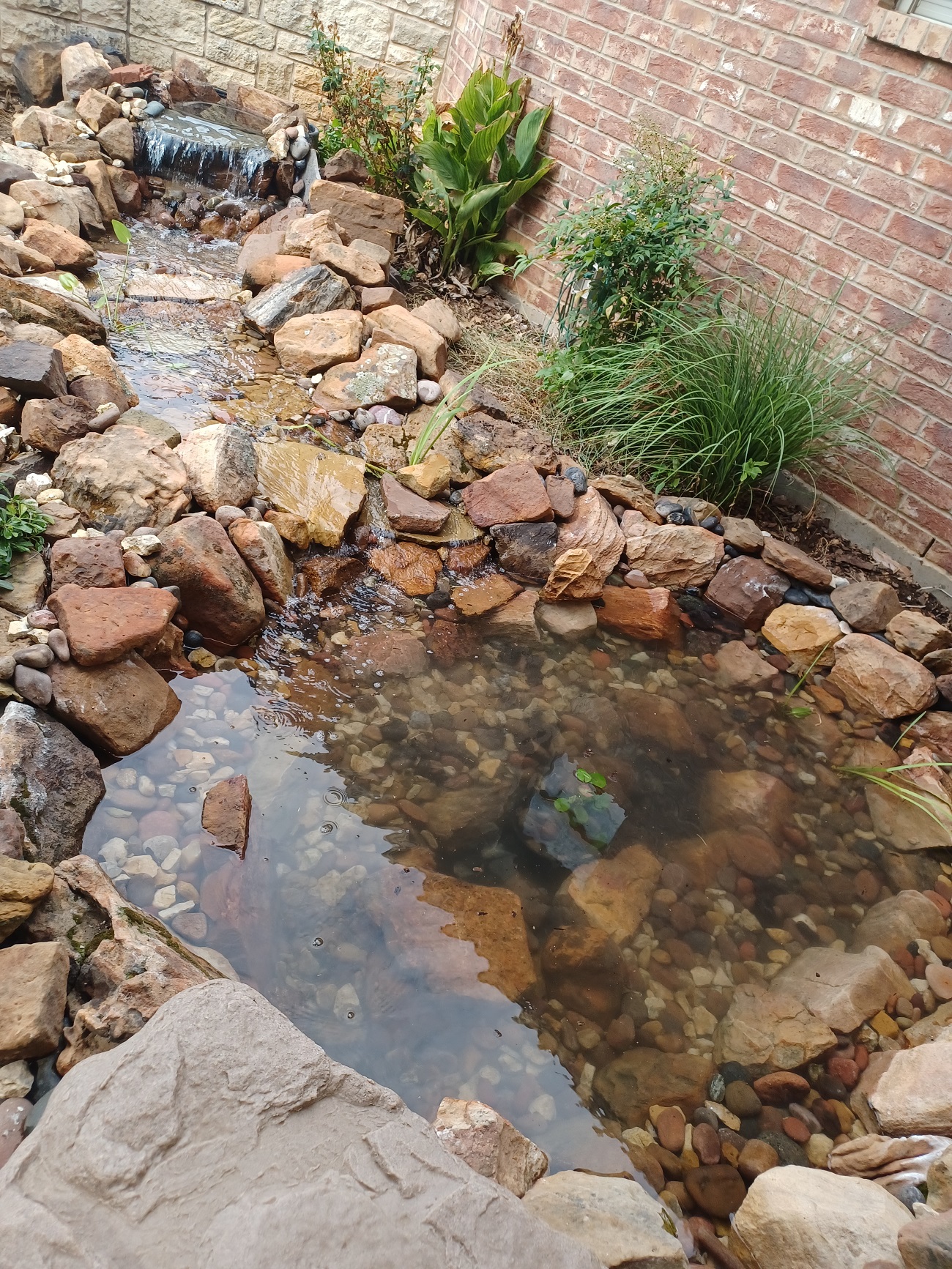 Arlington 2022, 15x15 liner replacement and raise waterfall.


Burleson 2022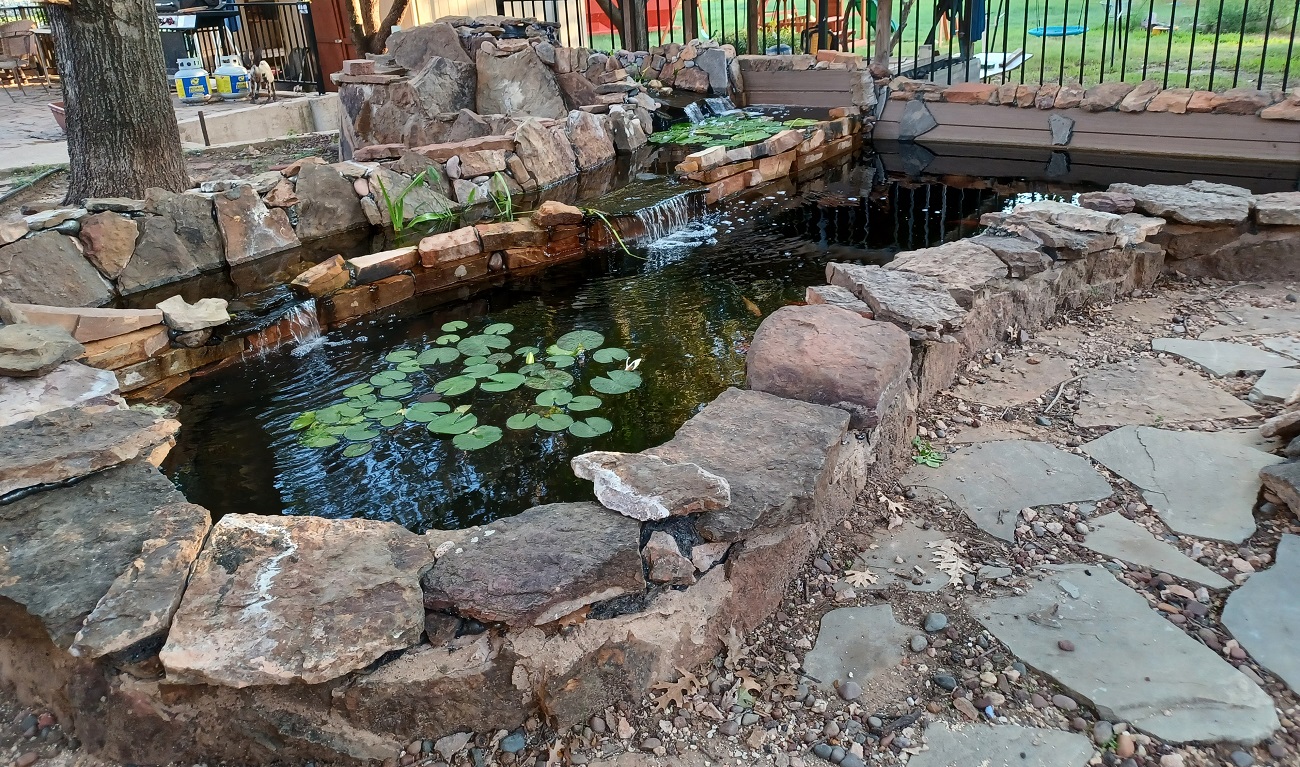 More
Cleburne 2022 - Waterfall stream and seal rebuild so new waterfall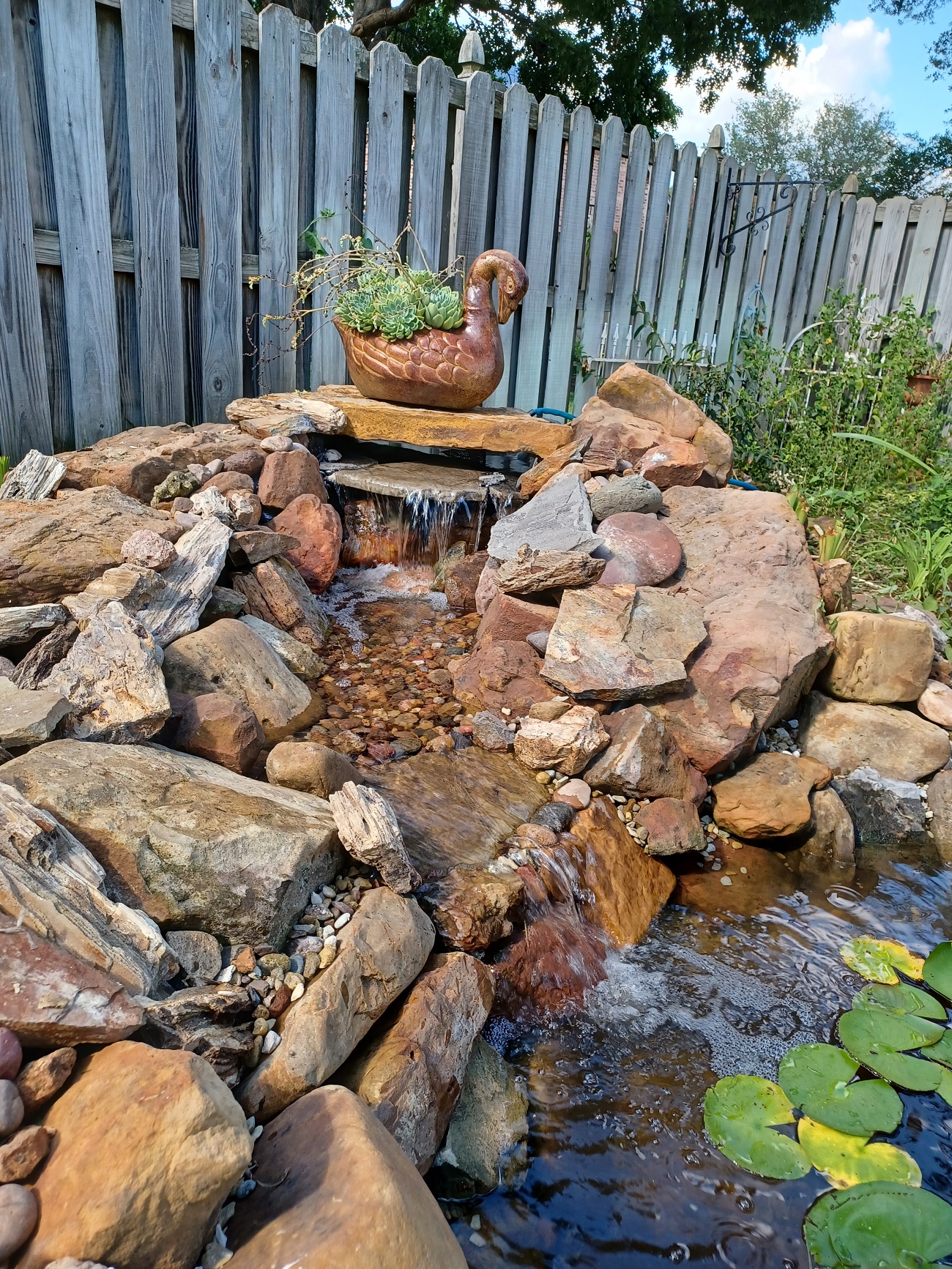 Whole Pond after waterfall change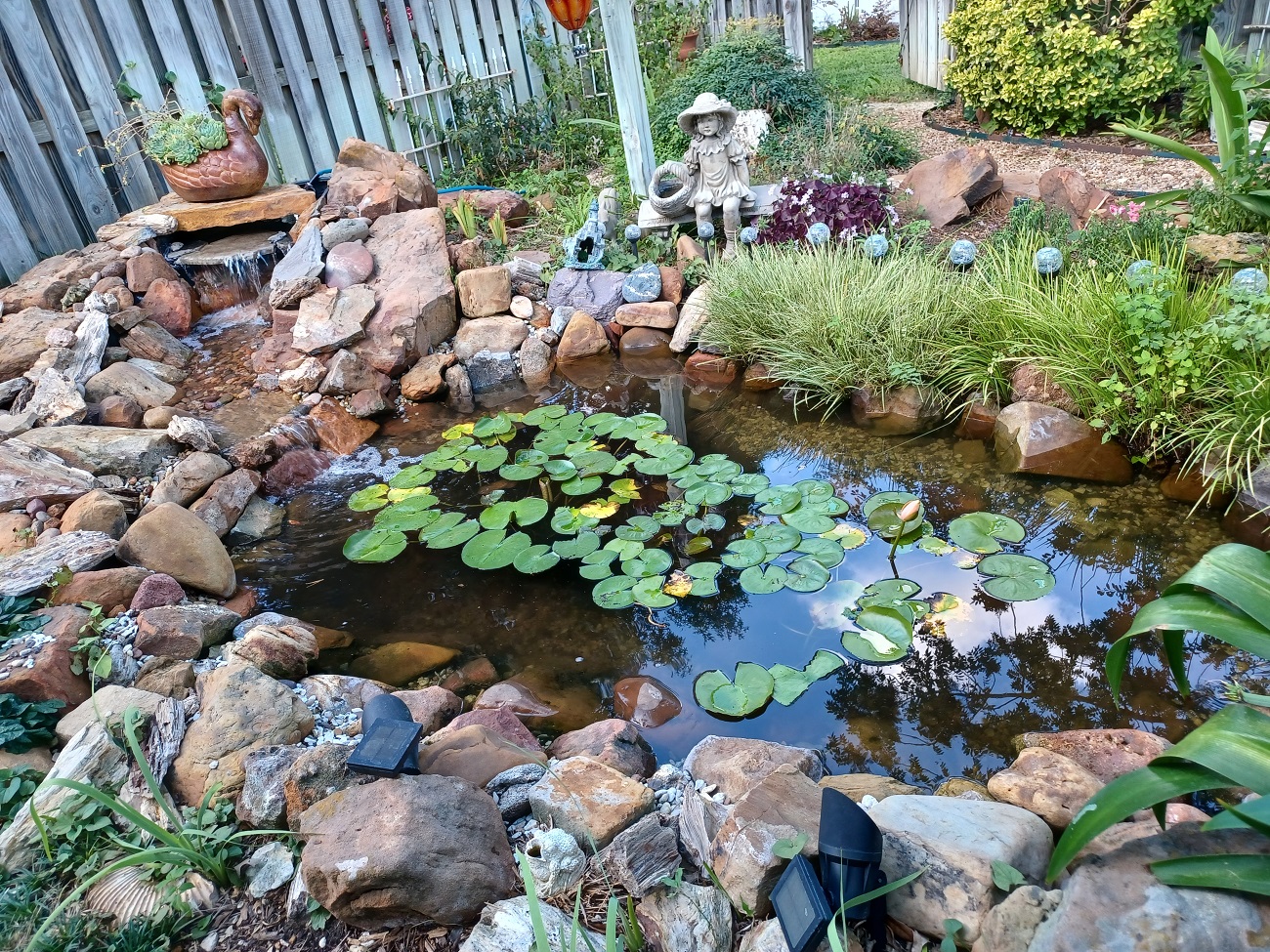 Whole Pond After clean, old waterfall


Hurst Indoor 2010 Not many indoor ponds this size. When we re-line a pond, replace the liner, ALL stone must come off, and go back on.
This one did. INSIDE the house. Not many photos, so no separate page with large photos. November 2010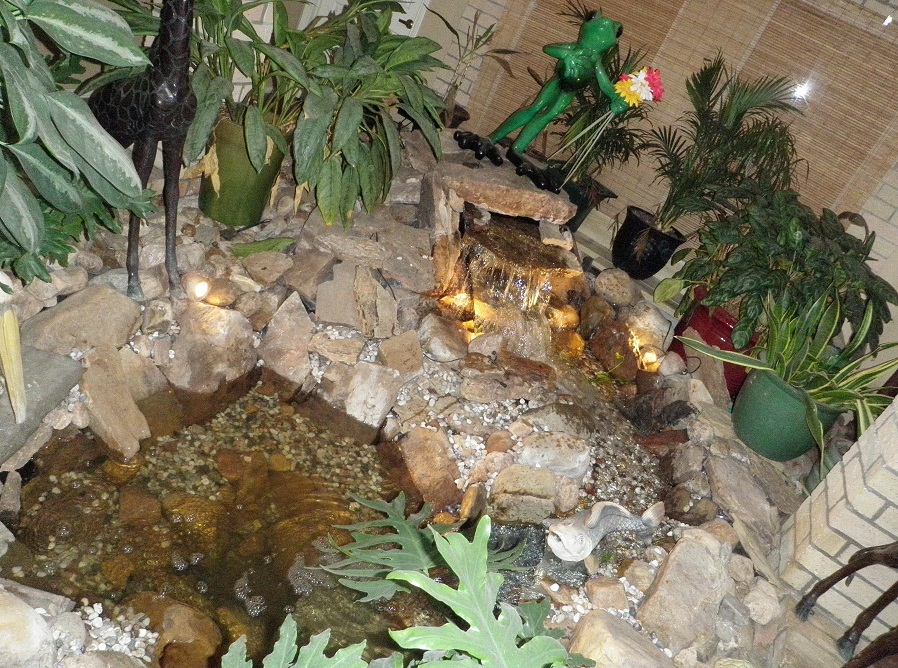 Grapevine 2012 More

Fort Worth 2013 More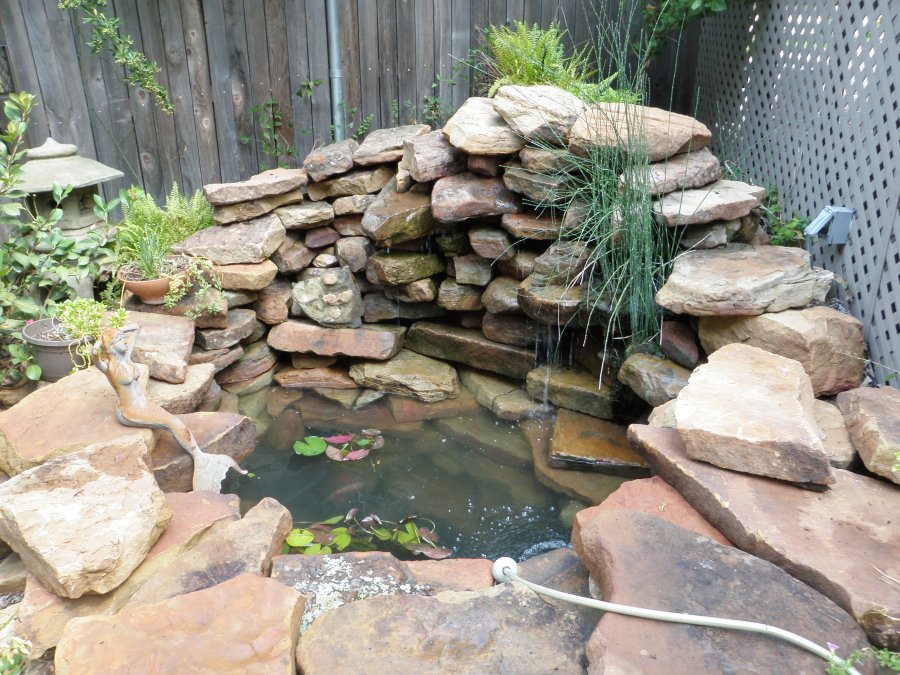 Benbrook 2019


Arlington 2014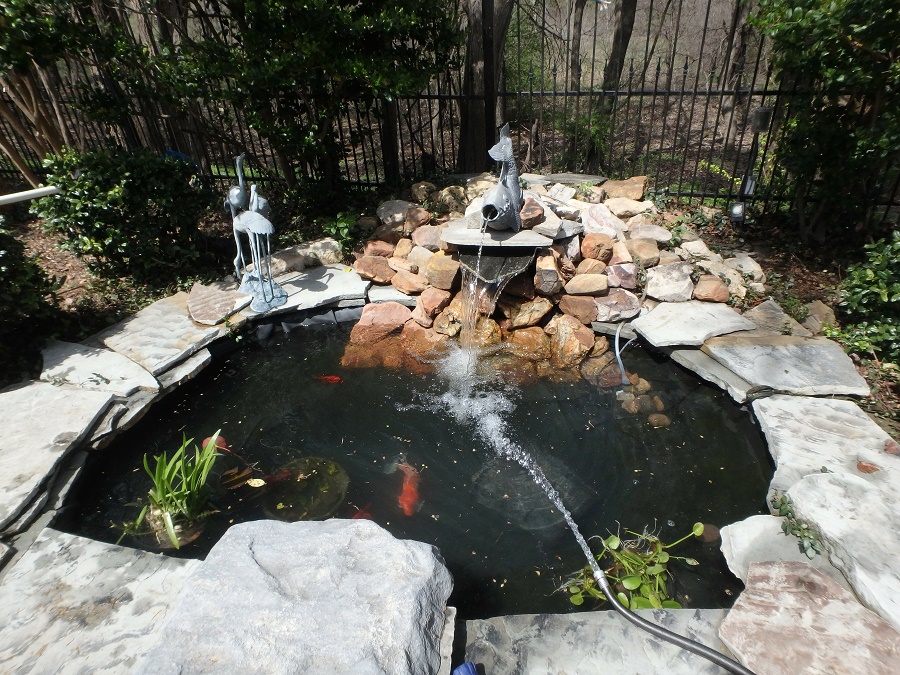 Fort Worth 2016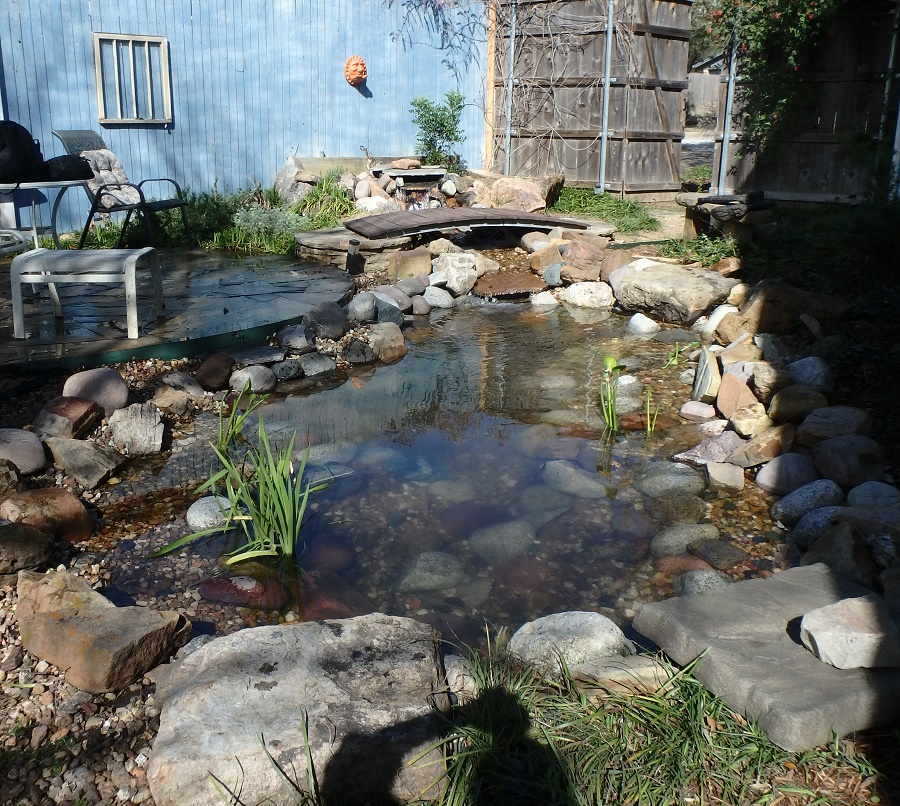 Fort Worth 2014 More


Bedford 2016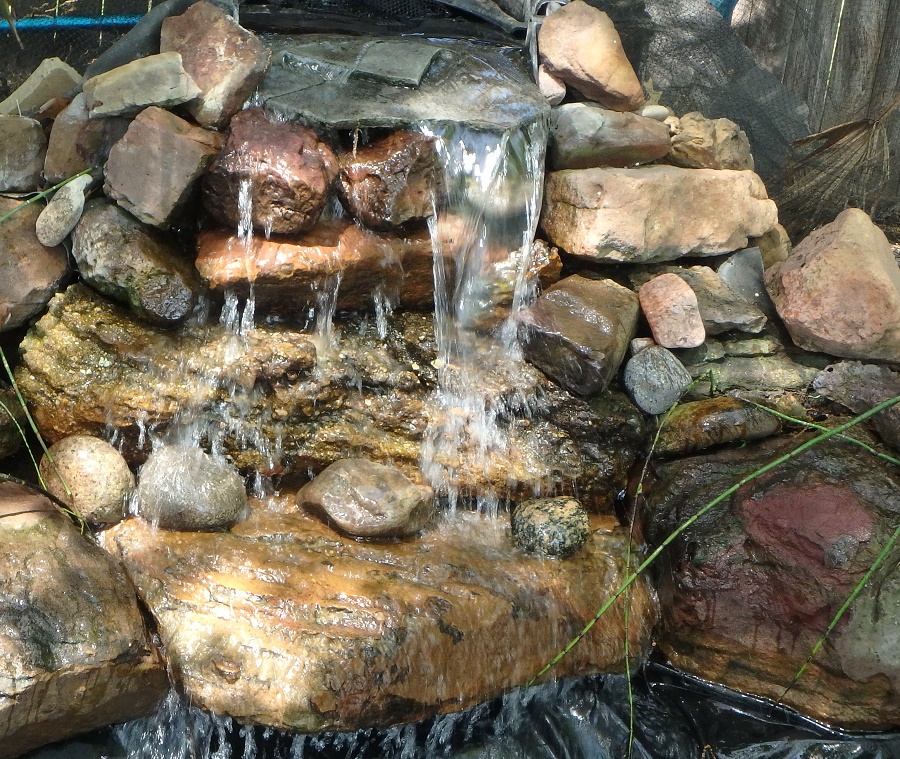 Haslet 2014 More


Trophy Club 2010


Fort Worth 2003, and many changes after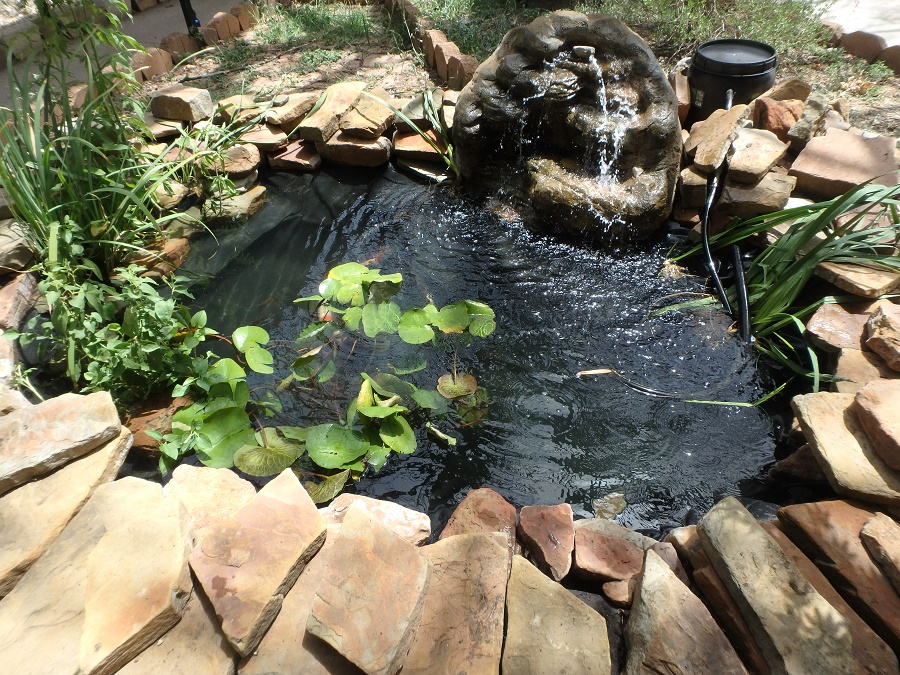 Keller 2018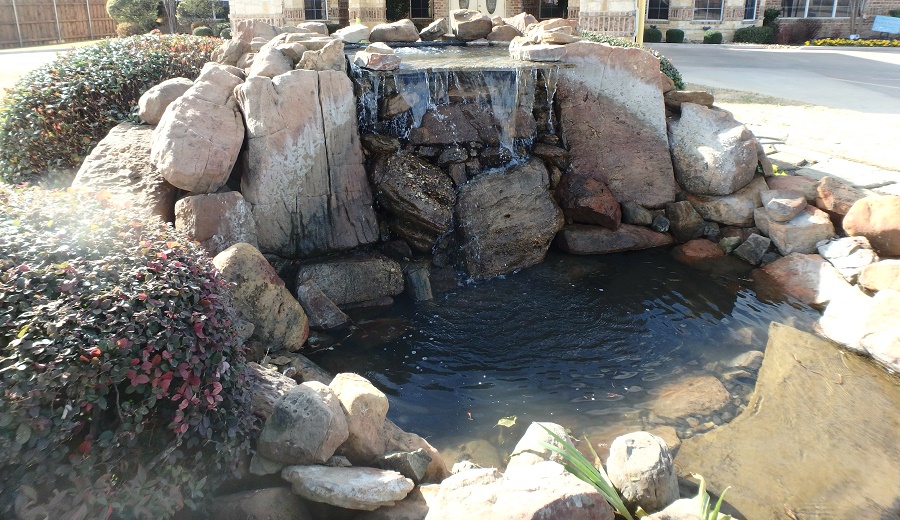 Grand Prairie 2014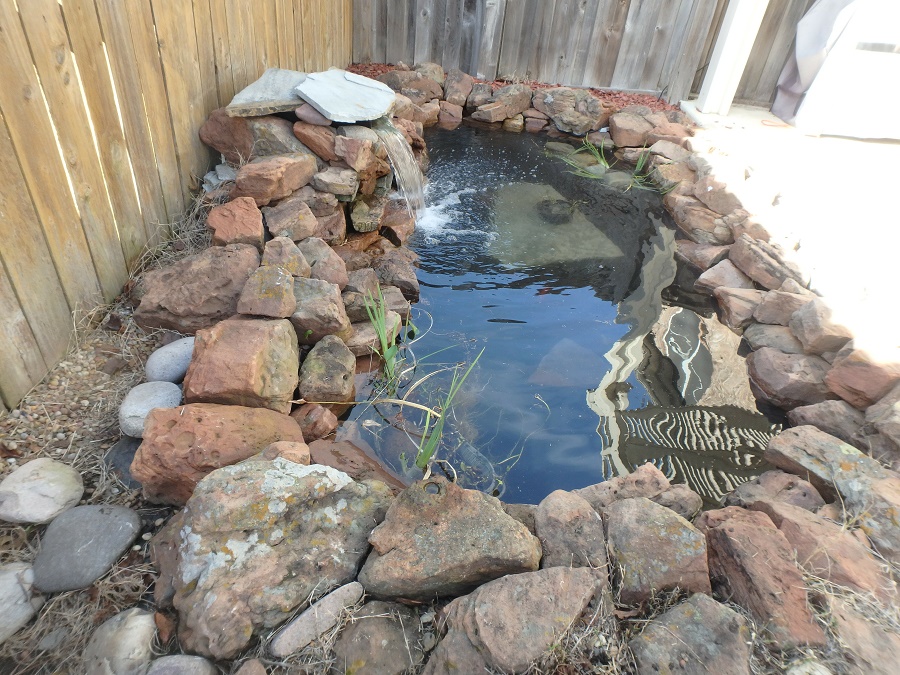 Arlington 2016


Benbrook 2015 (and 2007)


Euless 2014 and after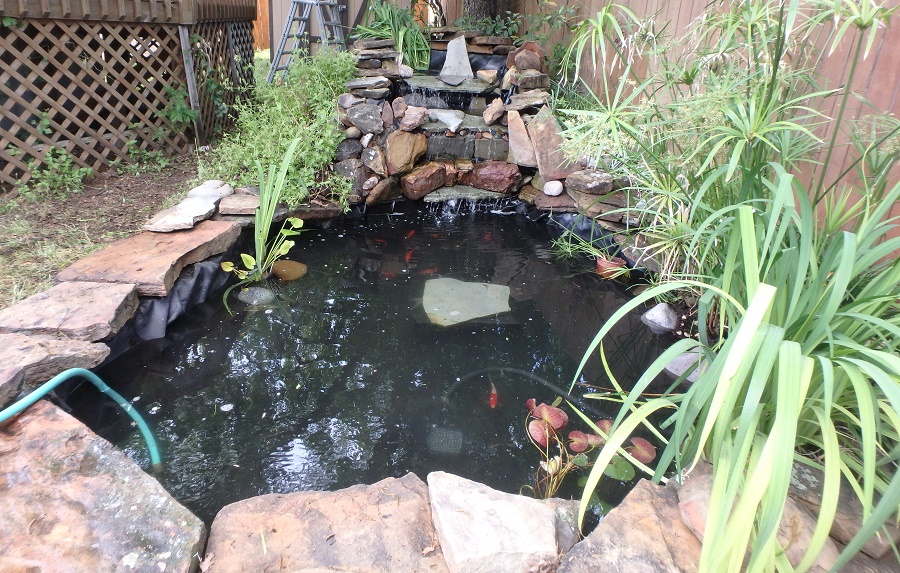 Fort Worth 2013 and after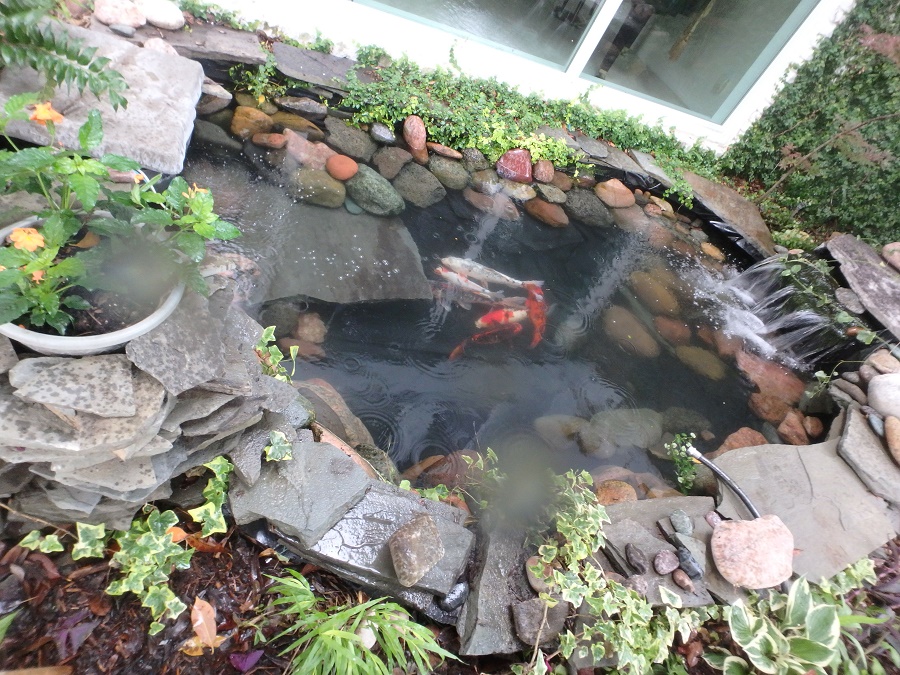 Keller 2016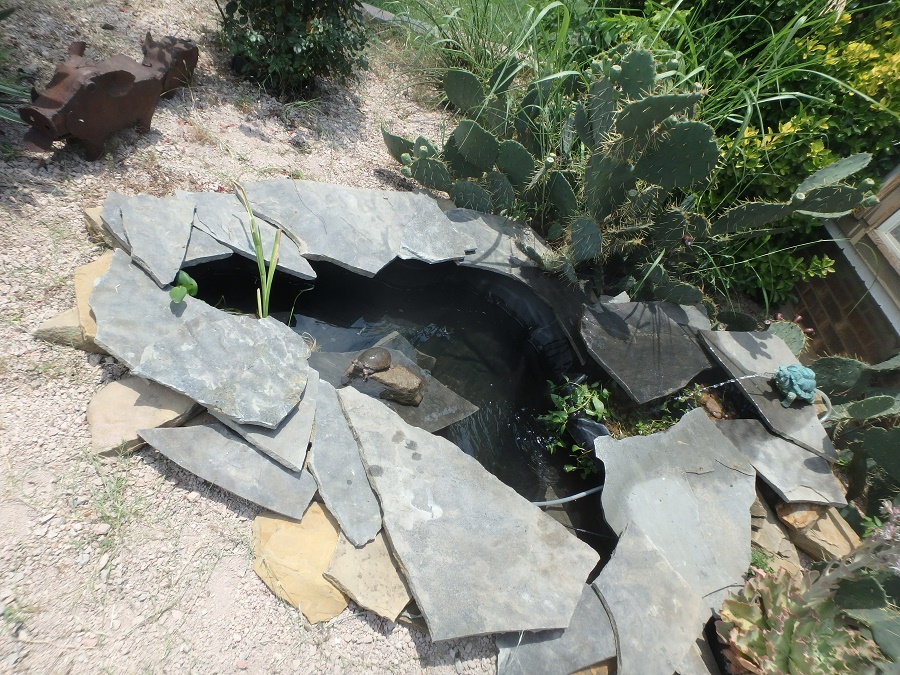 Fort Worth 2016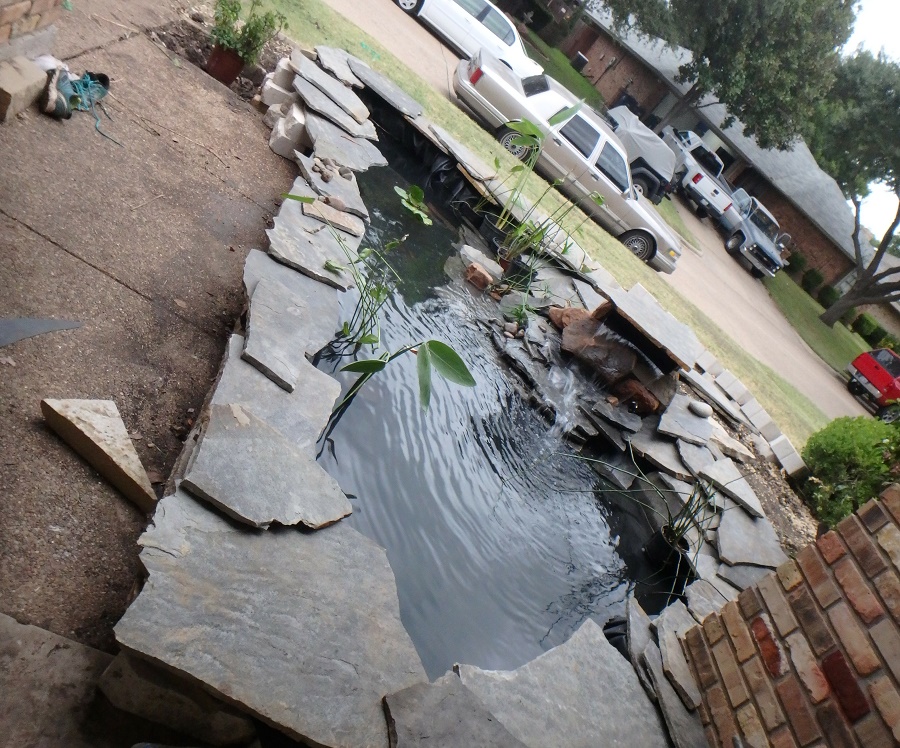 Fort Worth 2016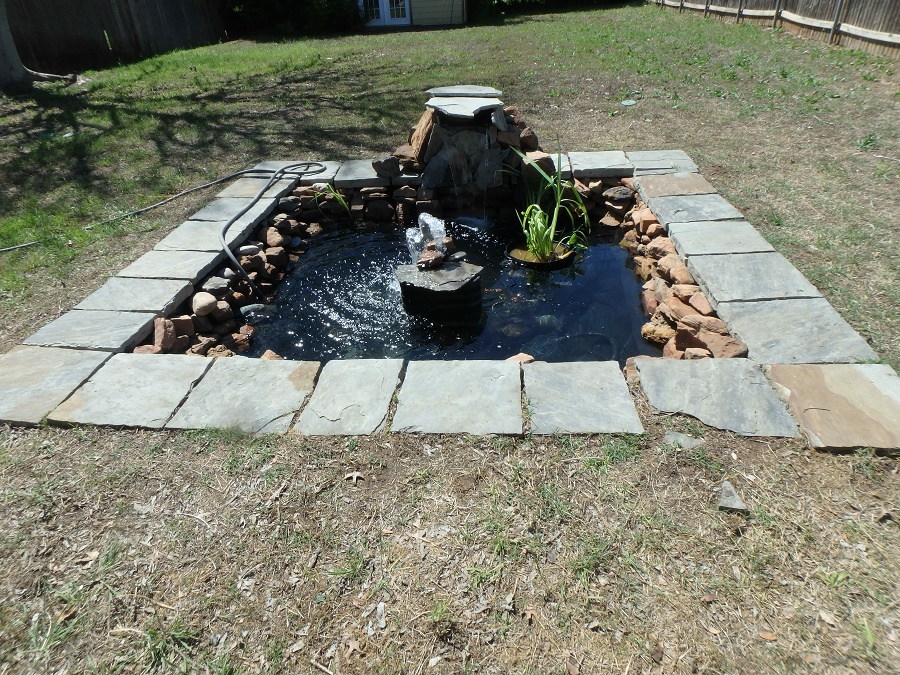 Fort Worth 2019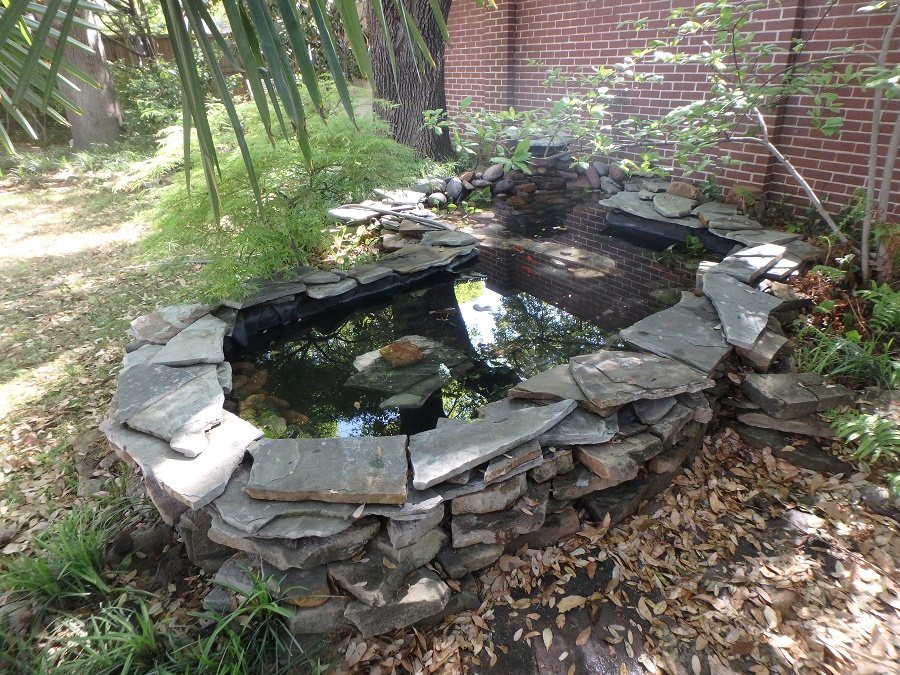 Fort Worth 2008 forward, this 2019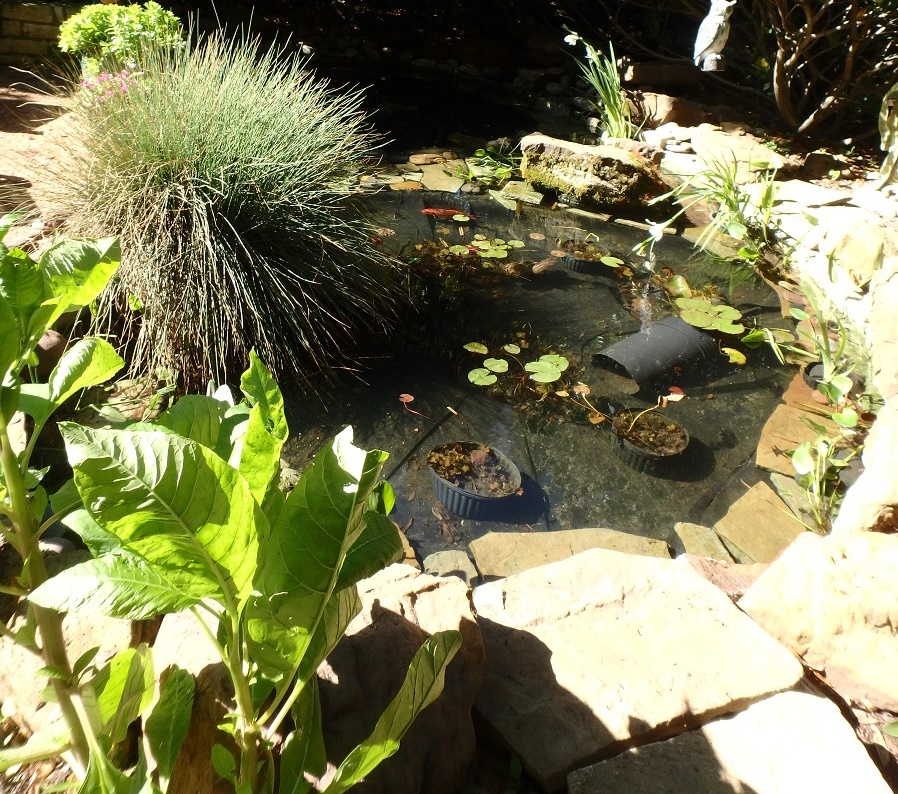 Hurst 2019


Fort Worth 2019 pondless


Fort Worth 2019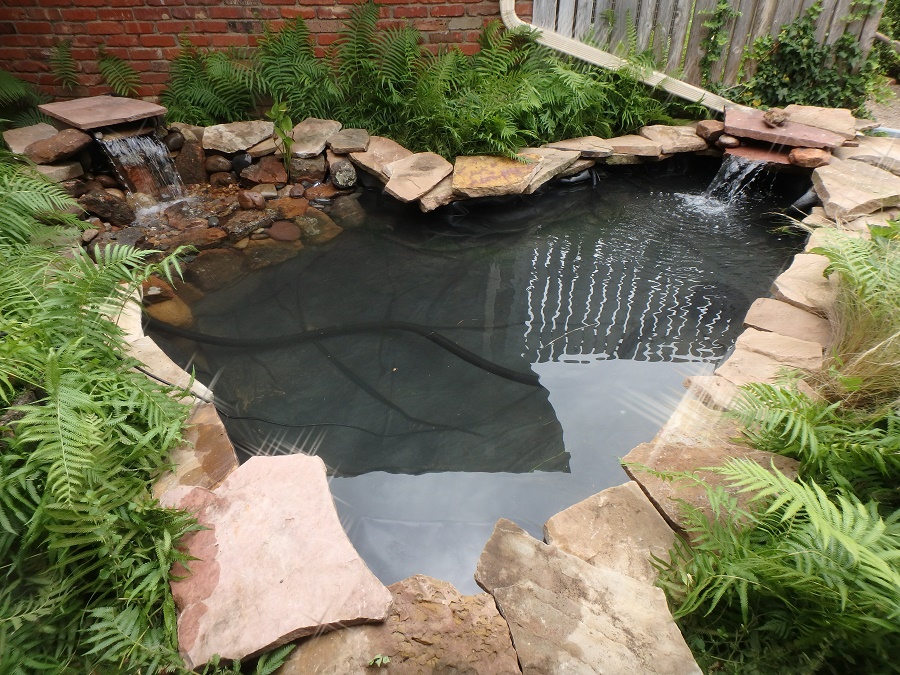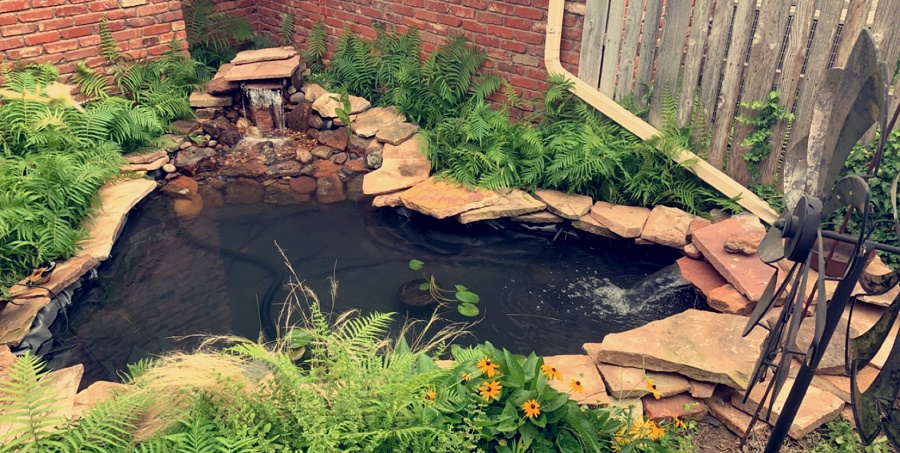 Crowley 2019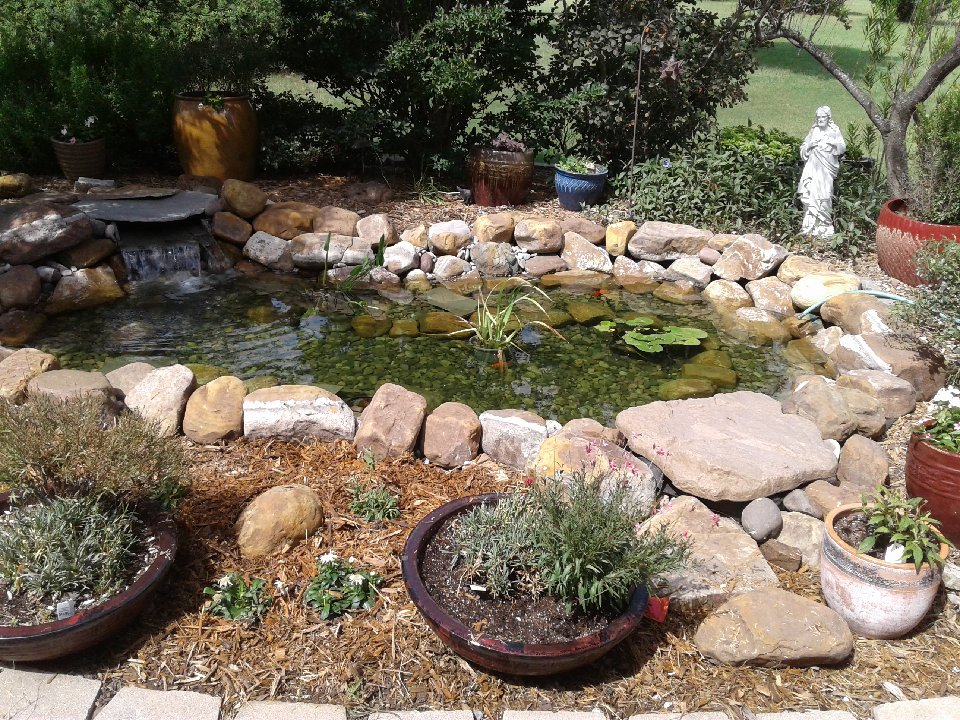 Fort Worth 2019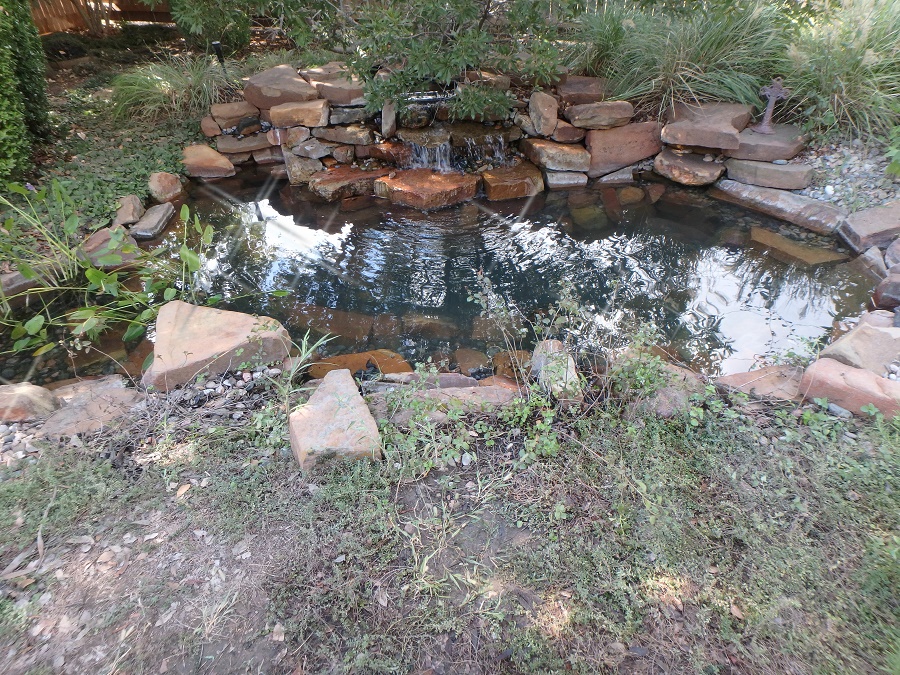 Argyle 2019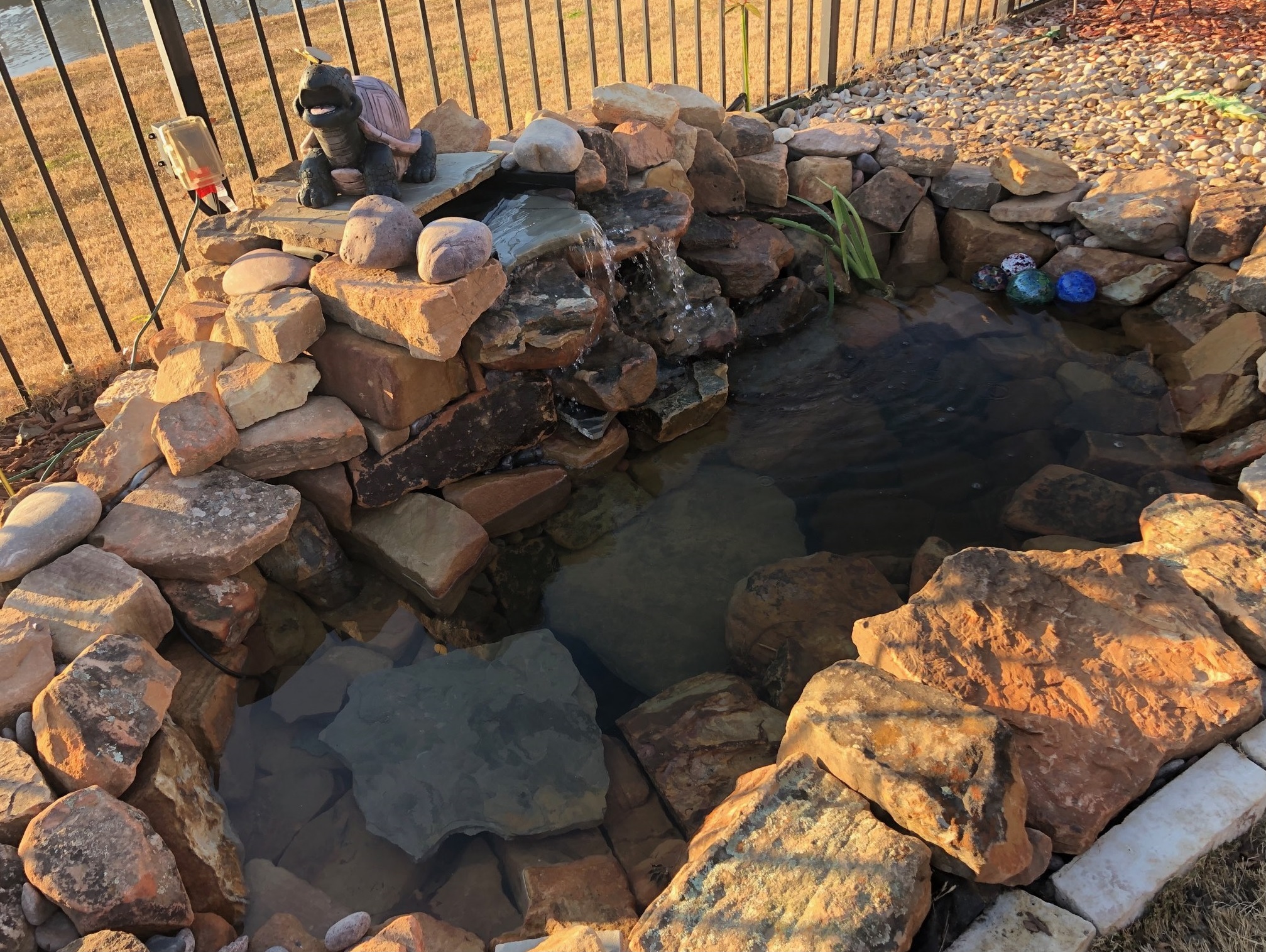 Fort Worth 2014 More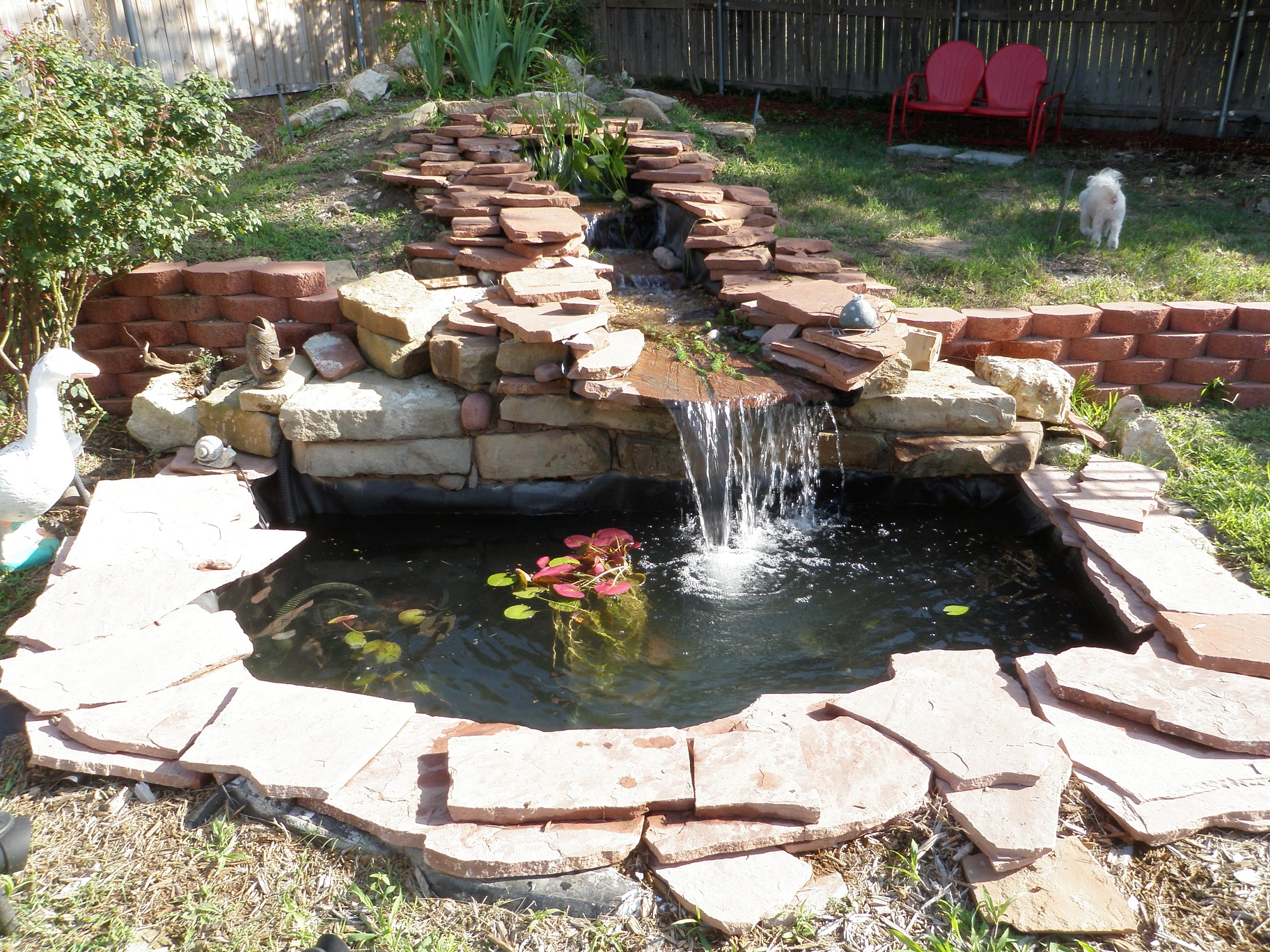 Grand Prairie 2012 More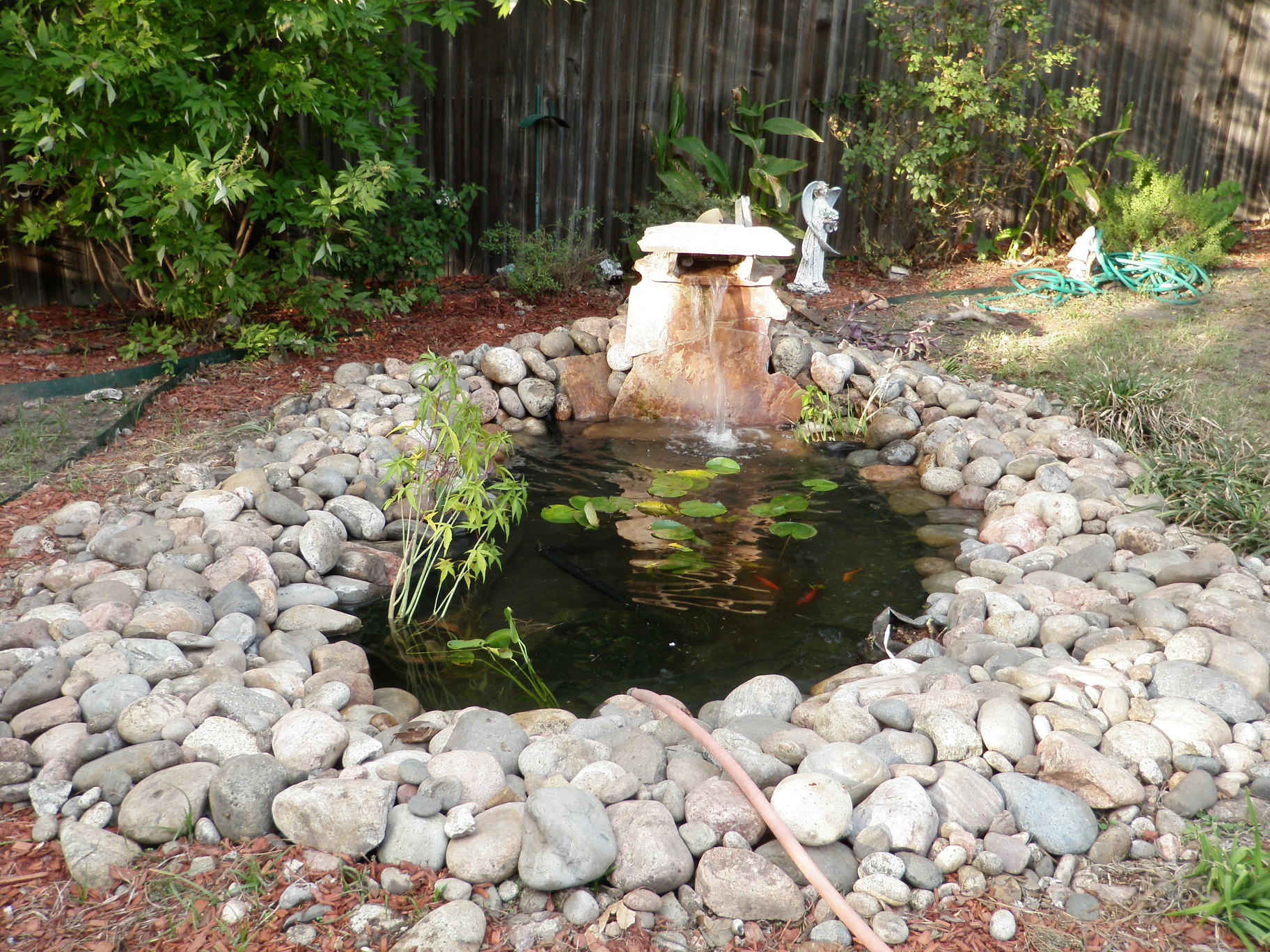 Granbury 2012 More


Plano 2011 More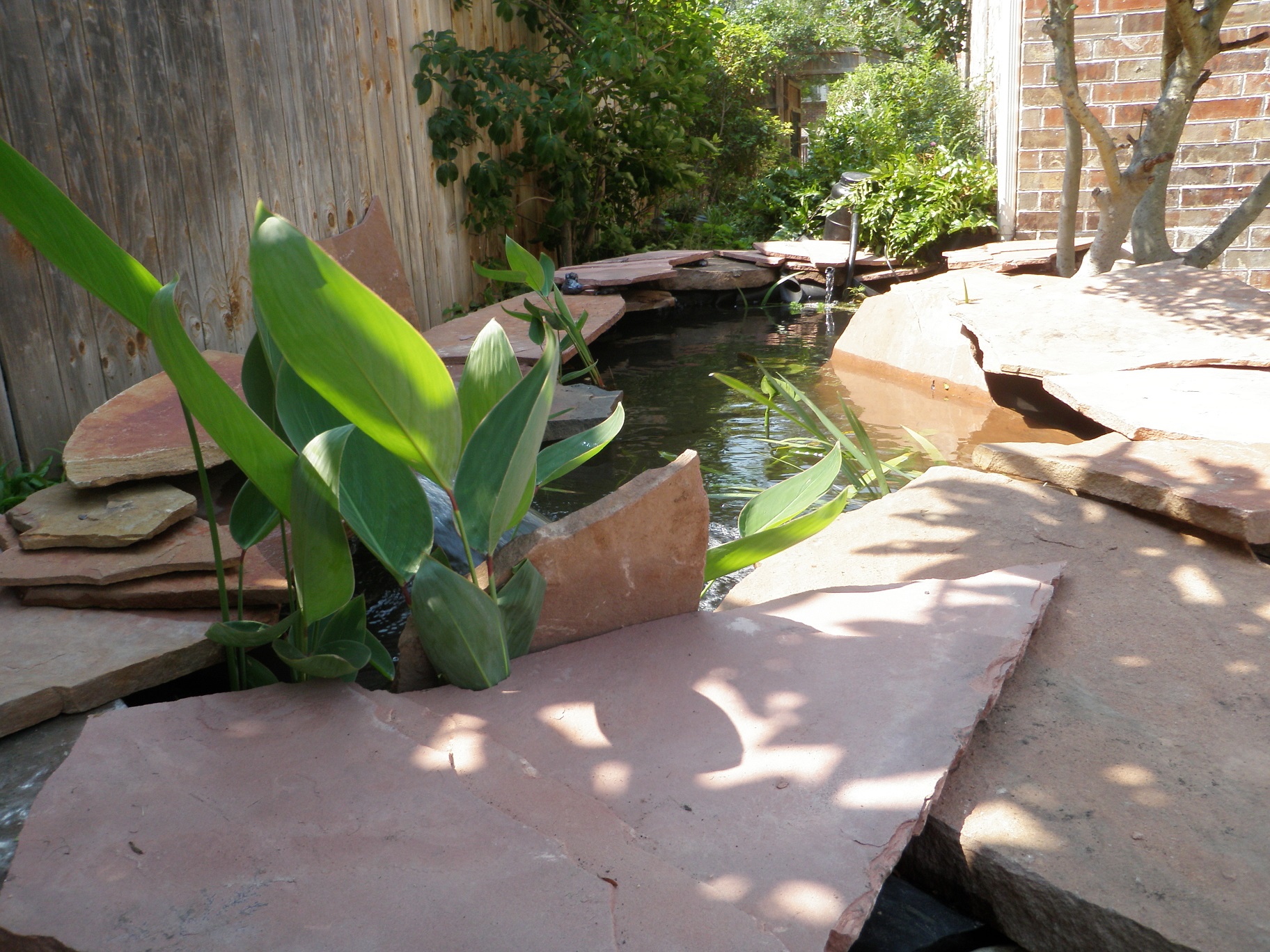 Euless 2011 More


Haslet 2010 More

Want to see what a pond cleanup can do? Page is still growing.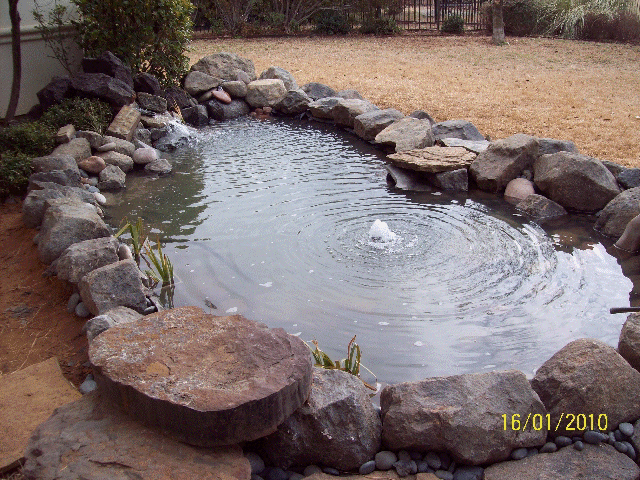 New pond in Trophy Club, Texas. Colorado granite comes to Texas. The owner had a pond at his former home, and when they moved, the rock moved to his driveway, and the fish moved into an Everything Fishy stock tank for about 6 months, until the homeowner had time to get settled and ready. We dug this pond in December 2009, put the last granite boulders and the petrified wood sitting step with, hmmm, coffee table, on in January 2010. Simple filtration, Tetra PF3, there is NO ultraviolet light on this system, and it is unlikely to need it. Silvermist flags and cobble in the stepping plant ledges that will be more visible when the water fully clears. (pond was cycling, and construction dirt clouds for pics.) The rest of the plants will be put in when the weather is warmer. Presently dormant lilies on the bottom, a few potted plants, and a few bits of horsetail anchored in the stones. Back yard faces south, so adequate aeration to deal with the heat next summer was a big concern. Click Here to see larger photos. Pond in Trophy Club, Texas, near Fort Worth.
New pond in Rhome, Texas. Hole pre-dug by backhoe, we shaped and added plant ledges, rockwork, built filters in 'bogs', built understructure for waterfall and waterfall June 2009. 9000 gallons, 25 ft diameter terrible water supply. Water is highly alklaline, deficient in proper minerals for plants, but as of August 3 2009 most plants are alive, fish are alive, clarity is still very good. Simple filtration, there is NO ultraviolet light on this system, algae so far is mossy floating algae typical of a Texas summer, and not much of it. (in this water supply we anticipated and successfully headed off problems with green water and string.) Click Here to see larger photos. Pond in Rhome, Texas, near Decatur.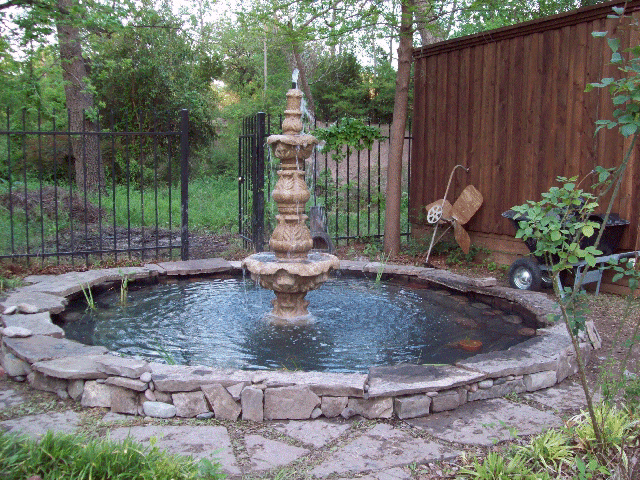 Rebuild in Dallas, Texas. Added depth, raised perimeter to keep mud out, sealed fountain with Ultimate Stone Sealant to reduce algae growth. The plant ledges allow plants, and safe access for humans. Raised perimeter should go a long way to help prevent mud-slides getting INTO the pond. Work done in April 2009. Around 1200 gallons, 20 ft diameter good water supply. No filter was originally present, but we did add a filter in June 2009. Will be going back for more pictures soon. Click Here to see larger photos. Pond in Dallas, Texas.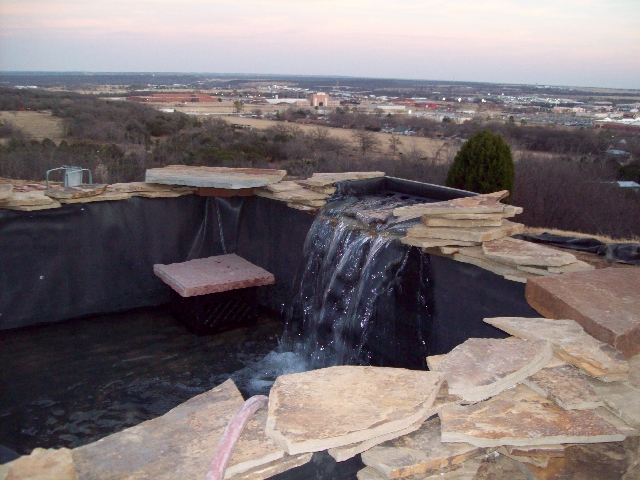 Rebuild: February 2009 Click Here to see larger photos. Pond in Mineral Wells, Texas.
New pond, build mid-September 2008. Modest size, shady location, good water supply. Simple filtration left us more budget for decor, and it is proving adequate for the job. Click Here to see larger photos. Pond in Dallas, Texas.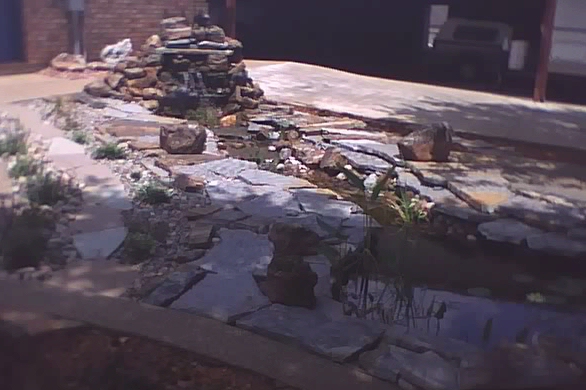 31 feet of liner, 2 energy efficient pumps. The waterfall is off a couple of hours a day, as the water supply favors algae growth. So we let the noon-day sun burn the algae off before it gets going. Every day. The pond itself is only about 6 x 10 by 30 inches deep, but the liner length is around 35 feet. The owner is redoing the landscaping around it, so expect better photos later. Water quality in this area presents some challenges for the plants, they are now beginning to fill out, but we took the photo while they were fresh. We have determined what water additives will make them thrive, and things are getting better. The plants are beginning to recoup. It is always easier to start a new pond when daytime temps are below 100 degrees. Fish have adjusted, but a predator has reduced their numbers. Traps are set - unless it is a heron they should be safe soon. Pond in Burleson, Texas. Click Here to see larger photos.
This is a relatively small pond, holding about 450 gallons of water at most. The location is warm, with heat reflecting off the brick walls in the morning sun, and no real shade. Water quality in this area presents some challenges for the plants, they are now beginning to fill out, but we took the photo while they were fresh. We have determined what water additives will make them thrive, and things are getting better. The liner is 13 x 15, depth around 30 inches. The fish are thriving, and the plants are beginning to recoup. It is always easier to start a new pond when daytime temps are below 100 degrees. This one is taking off anyway. Pond in Burleson, Texas. Click Here to see larger photos.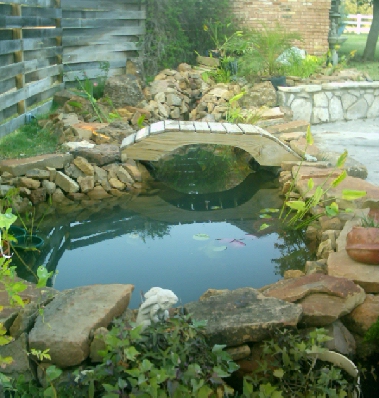 This is a very large pond, that deals with a natural grade, scree on the left wall, and is tucked in next to a patio and inground pool. Water quality in this area has presented some challenges for the plants, so we took the photo while they were fresh. We are determining what water additives will make them thrive, and things are getting better. The liner is 40 feet long, pond length around 30 ft. No liner splice, it is continuous from end to end. A side view is difficult to get without standing in the pool, so this is end to end. Pond between Decatur and Alvord Texas. Click Here to see larger photos.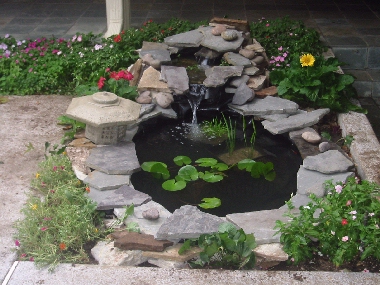 This is a very small pond, that started as an even smaller hardshell, surrounded by patio and pool. Dimensions, roughly 8 ft from back/top of upper basin to end of pond, width of bottom pond around 4 feet, length, around 5 and a half feet. Depth is about 22 inches. As long as the fish are small, and not koi, and it is cleaned regularly, it should do well. There is a prefilter on the pump, and the gravel and plants in the upper basin serve as a filter. fish in a pond this size should not be fed much, or algae can become a very large problem very quickly. Pond in Dallas, Texas Click Here to see larger photos.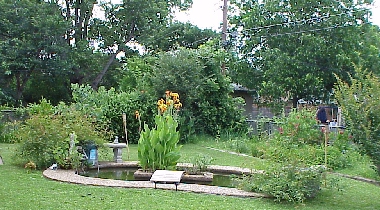 This is a concrete pond in east Fort Worth, Texas that has been in operation for many years, some greener than others. Because no waterproof coating was applied over the concrete (and probably gunite surfaced over the concrete), the surface continually leaches traces of lime into the pond, feeding algae. Filtration is a tetra pond filter that isn't really up to the job, but the fish are alive. We did the cleanup and restoration to a healthy condition in May, 1999, and have seen it at least once a year since. It has had our Ultimate Stone Sealant applied, in 2007, and finally cleared in Summer of 2008. Can't see your fish? We clean ponds and add, change or re-design filter systems.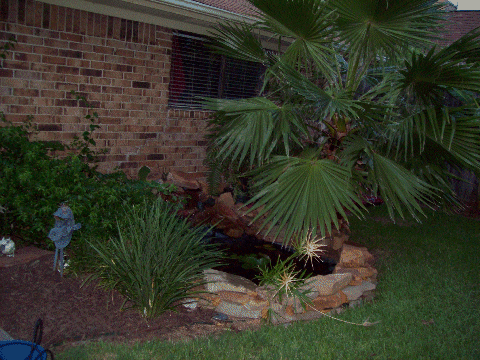 Volume, about 500 gallons. Rough dimensions, 5 by 7 feet pond interior, 9 by 12 feet rock edge to rock edge. Stock: about 11 goldfish including comets, a shubunkin, and a couple of fantails, 1 very small koi. It will be overstocked when the fish mature, but most are small right now. Clarity is 'off' in this photo because the pond is cycling. Pond in Carrollton, Texas. Work done May 31 - June 7 2005
Click for before and after views of this pond in new window..
Photo date: July 2009.

Click for larger image taken right after it was built, in new window.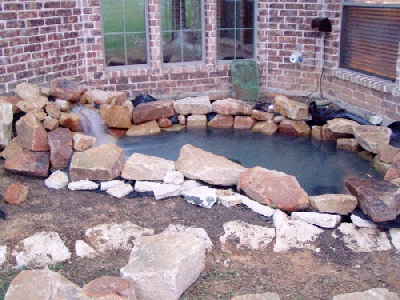 This photo was taken when we finished rebuilding this pond, from its foundation up. The customer had plumbing, pump, and filter, as well as plumbing for the bottom drain in place. But the soil around his foundation was construction sand which needed replaced, and it needed new rock. (Limestone was originally around the perimeter) We removed the sand, replaced it with topsoil, and built up the edge to support rock, then added rock, building edges and falls. The liner could not be fully trimmed right away because we knew that the ground would settle, and the pond needed room for adjustments. Rebuild date: April 23, 2005. Pond in Haslet, Texas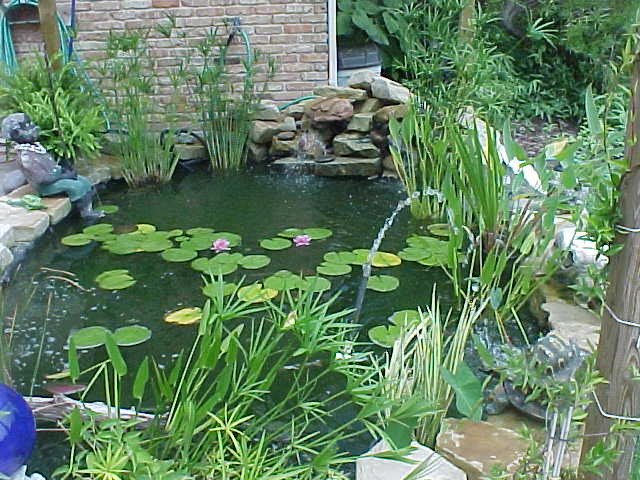 Everything Fishy built this pond in August 2004. It's had it's ups and downs since then. The yard faces south, and the bricks, rock and patio accumulate heat. Pond in Ovilla, Texas More images, and more of the story can be found here.
Volume: between 1000 and 1200 gallons. Finished size: about 12 ft by 7 ft pond interior. 15 or 16 ft by 11 ft at rock's edge. Drainage gravel for french drain along patio edge. Our standard wet/dry filter, now with additional bog filter. 5000 gph fountain pump as of August 2006.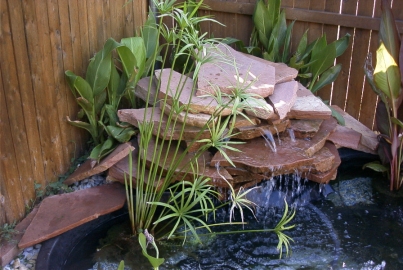 A custom filter is hidden inside the red slate of this waterfall. The pond is a customer installation, preformed, about 200 gallons. We built the proto-type filter and waterfall in summer 2001. The filter is a high maintenance model. If not serviced regularly (at least every 2 months in summer) it can overflow and drain the pond. We still service it, as of Fall 2006. And the customer can still see his fish. Algae has been known to form on the water fall, it is in full sun, but we scrub it off and salt it down now and again. Pond in Arlington, Texas
Click for larger image in new window.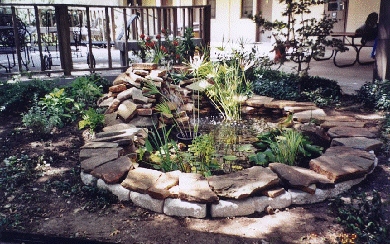 Water fall and filter are separate on most of our ponds. This makes filter maintenance easier, making it easier to achieve superb water clarity. Pond in Fort Worth, Texas.

We built this pond with our standard external wet/dry filter in August 2002. Clarity is still good, fish are still healthy, everything is as it should be as of June 2005..

Because the surrounding environment can have an impact on the health of your pond, we will help you choose plants that enhance the area without requiring special treatments, such as fertilizers and pesticides, that can turn your pond into an ecological disaster area.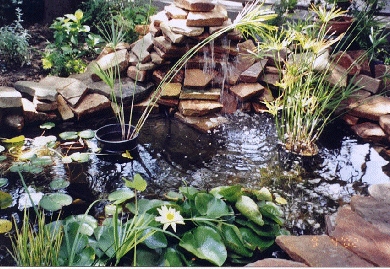 Waterfall closeup of above pond.
Links to more pond photo pages:
Small but charming. A tiny (400 gallon) pond with simple filtration and fountain, elegantly nested between old oak trees.
My pond. Definitely not the showiest pond in town, but the one that all techniques get tested on first..
My old pond, our first pond. Closeups of rockwork, bridge, and fun photos of lily and dragonfly.
We deliver and install perennial and annual landscape plants, bog plants, hardy water lilies, and some large goldfish, thick bodied, brilliant red/orange color. Fish are subject to availability. Recommended stocking load for goldfish: 1 adult fish per 100 gallons. Recommended stocking load for koi: 1 mature fish per 500 gallons.

I prefer not to stock with koi. Koi eat your pond plants and lilies, then rapidly outgrow your pond's capacity because they never STOP growing. I also avoid fantails or fancy breeds that raccoons can catch in 30 seconds.
We answer emergency calls as quickly as possible. Often we can tell you, by phone, what to do to temporarily rescue your fish until we can get there. Everything Fishy's telephone number is 817-293-1782. If you get the voicemail and have an emergency, listen carefully to the message. Or email the link on this page, it goes to my cell.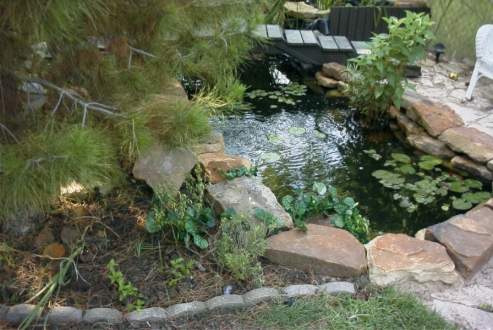 The Do It Yourself pond: Pond design tips to save you time, money and grief.
Good filtration is critical to a healthy pond. Aeration helps to control temperature in the summer and enhance conditions for your fish, in addition to allowing many creative options in the way your pond appears, and sounds. The pleasant sound of trickling water, or the roar of a larger waterfall can be arranged.
Higher water temperatures increase the metabolic rate and waste output of fish. The waste output from goldfish at 84 degrees is about twice as high as the waste output at 72 degrees. Green water is often a symptom of inadequate filtration, but even the best filter will be straining to keep up if the pond water temperature is over 75 degrees. Cooling your pond, by adding an additional pump and fountain, may solve some green water problems. Particularly if you've already tried a UV light, and the water remains greenish and hazy, a thermometer can be a very wise investment.
Cattails and native water plants enhance the ecosystem by using up nitrates. They also soften and naturalize the appearance of the pond. Water lilies bloom in the morning during the summer months, and provide shade for the fish during the heat of the day.
More photos:
---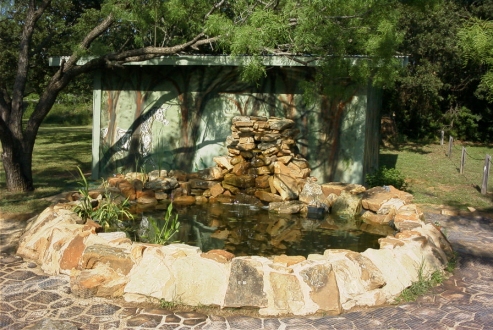 Church pond built by Everything Fishy with volunteers' help in October 2000. I'd have preferred a different design with wider falls, but stone costs and the church budget and manpower were limited. Everything Fishy built the filter, and as of 2005 it is doing a nice job of keeping the pond clear. The resident goldfish and the occasional red-eared slider are healthy.
We stretched fishing line across the pond in a couple of directions. A visiting blue heron has dined on the fish several times. "knee-height" fishing line deterred the bird.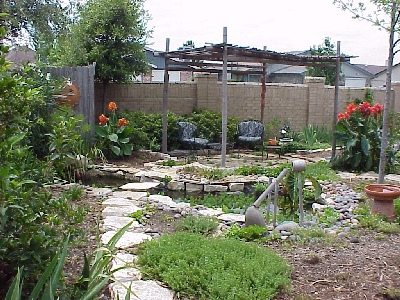 Customer pond. Click alt over image for designer info. The limestone used in building this pond produced an abundance of string or hair algae, but the plants do flourish. It's just tough for the fish to find swimming room. The design novelty still earned this photo a place on the website though. It would look as good with sandstone, and it certainly is creative and very 'together'.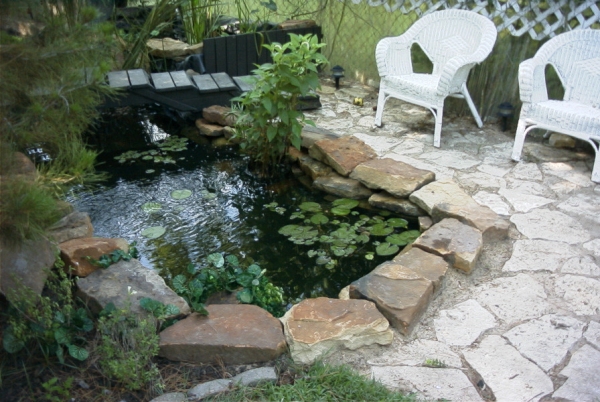 May 2001
The pump is hidden, the pipe is hidden in the main pond now. Perennial hardy plants are going in below the lonesome pines. The pines are now 10 ft tall. Compared to the 1995 and 1996 photos we scanned tonight, this place has grown up. (photo taken in 2001 - before we moved.)

Grass has just about disappeared from this corner of the landscape. Still plucking a litttle out between the stones.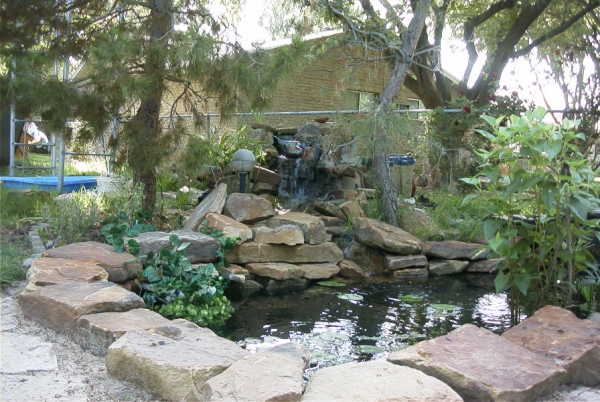 We accept the following credit cards:

---
Great ponds stay healthy with great pond supplies - To find them click here.
Aquatics information, photographs, articles Copyright © 1999 - 2019 by Alice Burkhart, All Rights Reserved.