Everything Fishy

Aquarium filter parts, books, nets, betta products, media and more.
Bulk Media
Small Light Bulbs
Breeding Aids, Tank Dividers
Betta Bowls, Specimen Containers, Mini-Aquariums
Books
Aquarium Nets
Everything Fishy Home Page
Do It Yourself Products, Parts Kits
Why were you directed here? You were on a page that previously held stock, and except for 1 or 2 items, it is all gone. With our costs comparable to amazon and ebay retail, we are not carrying as much. We will maintain stock in the "best of the best" categories - air driven filters, superb chlorine removers, backgrounds, and those staples of aquatics that are hard to find anywhere. But maintaining 100 aquarium heaters so we have the right size for your tank, we can't do anymore. You might find a bargain or 2 on this page, feel free to drop an email and see if it is still in stock if you like. Thank you for visiting.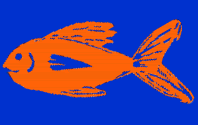 Click
to add an item to your cart. You can always remove it later.
Click More Info to view more specific information on a product. Thanks for visiting.

Monthly maintenance on your freshwater tank, or bi-weekly maintenance on your marine tank, will help to keep it, and your fish, healthy and attractive. We accept special orders for supplies, and if they pass our testing standards, will stock them on a regular basis.
© 2000 - 2013 by Alice Burkhart.